15 Places To Get Chocolate Bouquets In Malaysia For Your Loved Ones
By Yiing Zhi - December 04, 2020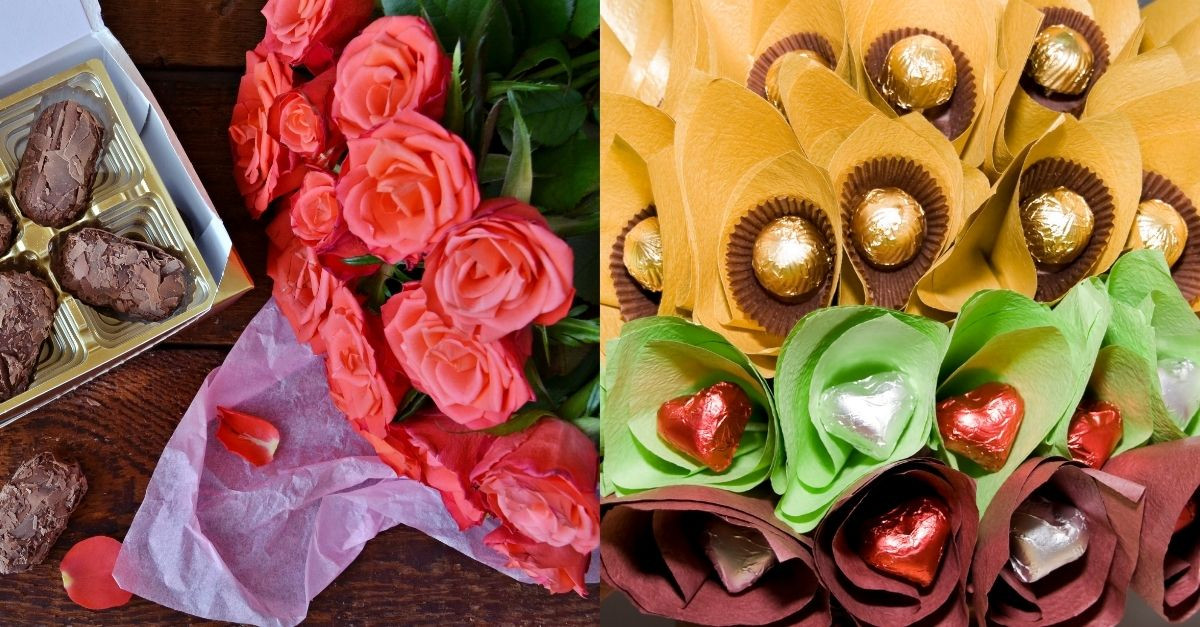 Gift-giving can be tricky, especially if you don't really know what to give. Of course, there are some classic gifts that you can't go wrong with, and that includes flower bouquets. While flowers are indeed an excellent gift, they sadly do not last, or maybe you may think that you want a lil' something more special than just flowers in the bouquet. The next best thing? Chocolate! Everyone loves chocolate, and whether you choose to present a flower-and-chocolate bouquet or go all out chocolate/snacks, it's definitely one to remember for the recipient! Let's get into it!
Pretty & Yummy Chocolate Bouquets In Malaysia
---
FlowerChimp provides all sort of gift items, ranging from flowers, cakes and gift hampers. Their main product is, of course, their flowers, with plenty of arrangements available such as bouquets, vases, boxes, stands and baskets just to name a few. Their chocolate gifts are just as impressive, with choices of bouquets or boxes, with different types of flowers available, or pure chocolate.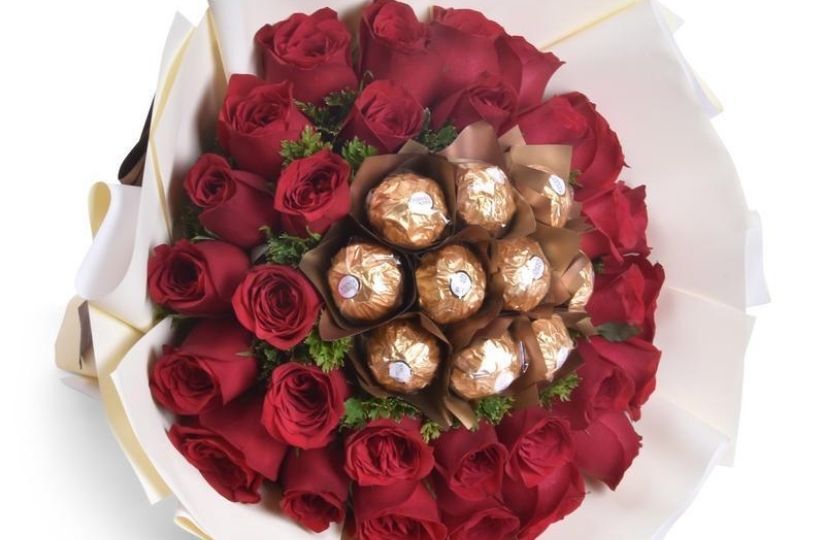 Image Credit: flowerchimp.com
2) Giftr
Giftr is a one-stop gift platform, where you can shop for gifts suitable for various occasions, such as festive seasons, anniversaries, birthdays, graduations, and congratulatory occasions just to name a few. Items to choose from include flowers, cakes, cards, balloons, wine and champagne, and other items, where you can also choose to personalise gifts. Their chocolate options are widely varied here, ranging from bouquets to boxes, some incorporated with other snacks, and some arranged with balloons!
Image Credit: giftr.com
At Pastel Florist & Gifts, not only do they have chocolate bouquets, but their choice of chocolate varies as well. Take your pick from Cadbury, Ferrero Rocher, and Kinder Bueno just to name some, and choose to have your chocolate bundled together with flowers, or have a full-on chocoalte bouquet instead. Besides bouquets, they also come in forms of boxes.
Image Credit: pastelforist.com.my
See also: Best Florists in KL & Selangor
Fave Florist might just be your new favourite florist, thanks to their wide array of bouquets, ranging from not just flowers, but to chocolates and balloons as well. Other than bouquets, you can also get boxes and baskets, depending on what you're looking for. Different types of chocolate are also available here, including Hershey's, KitKat, and the crowd favourite, Ferrero Rocher.
Image Credit: faveflorist.com
The snack/chocolate bouquets at Myflower Florist are arranged in a bouquet, but they also sit nicely in a box, making it al the more presentable. Snack lovers will definitely find joy in these bouquets/boxes, because far from having just a chocolate bouquet, they also have munchies like nuts, as well as other types of candy, all the better to complete the sweet treat bouquet!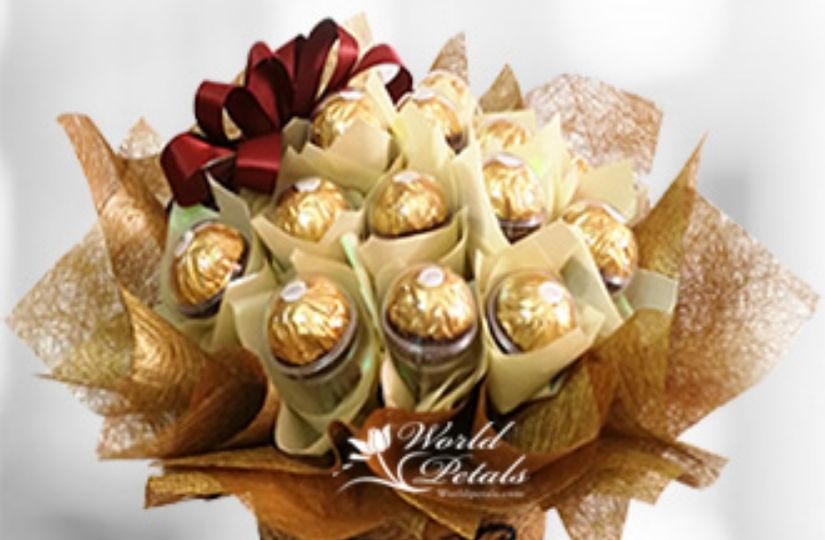 Image Credit: myflowerflorist.com
6) AfterRainFlorist
After the rain comes sunshine, and what better way to tell your loved one you love them rain or shine, than a specially, beautifully curated chocolate bouquet? Check out AfterRainFlorist's range of chocolate bouquets, where you can choose to have them arranged with or without roses! Of course, for something truly unique, you can also choose to customise your gift/bouquet.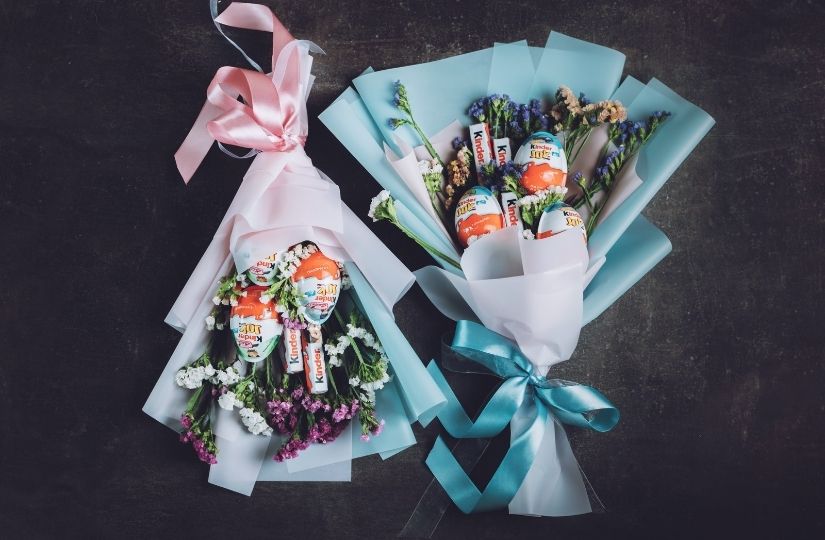 Note: Image not representative of AfterRainFlorist's product; visit their website to view product images.
See also: Best Florists in Penang
At Nieldelia, look forward to bouquets, boxes, and baskets of flowers and assorted items such as chocolate and balloons. There are several arrangements to choose from, and you can even choose from budget or delivery time frame to make it more convenient for you. If you're unsure what to get, you can also check out their Best Selling Products category.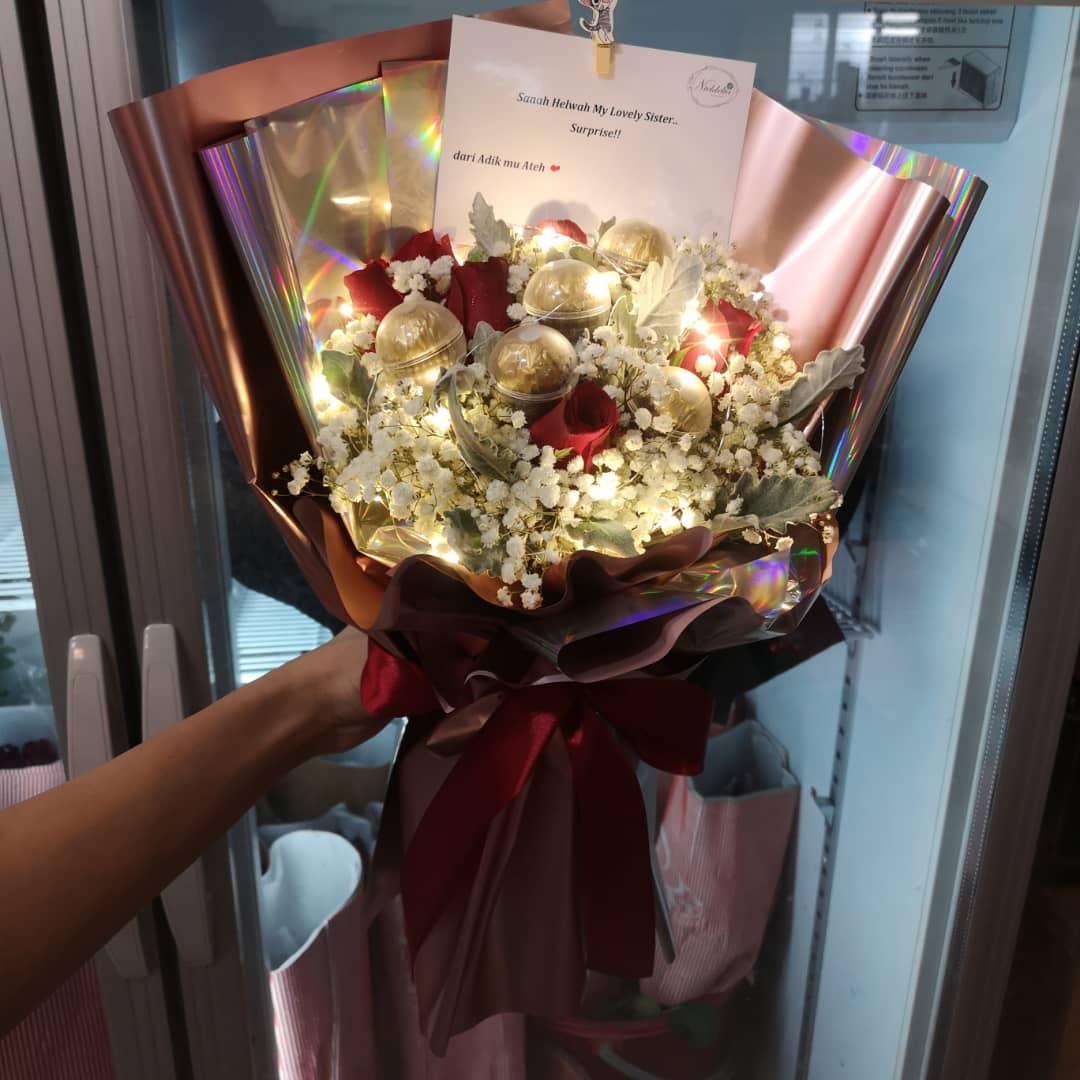 Image Credit: nieldelia.com
Discover the cutest, most adorable arrangements in the forms of flowers, teddy bears and chocolates, all perfect to show that you love and care. Arranged in baskets, boxes, or bouquets, variety is plenty at Summerpots, and you can take your pick on their website to choose the best for your loved one. Besides flowers, bears and chocolates, some of them also come with balloons.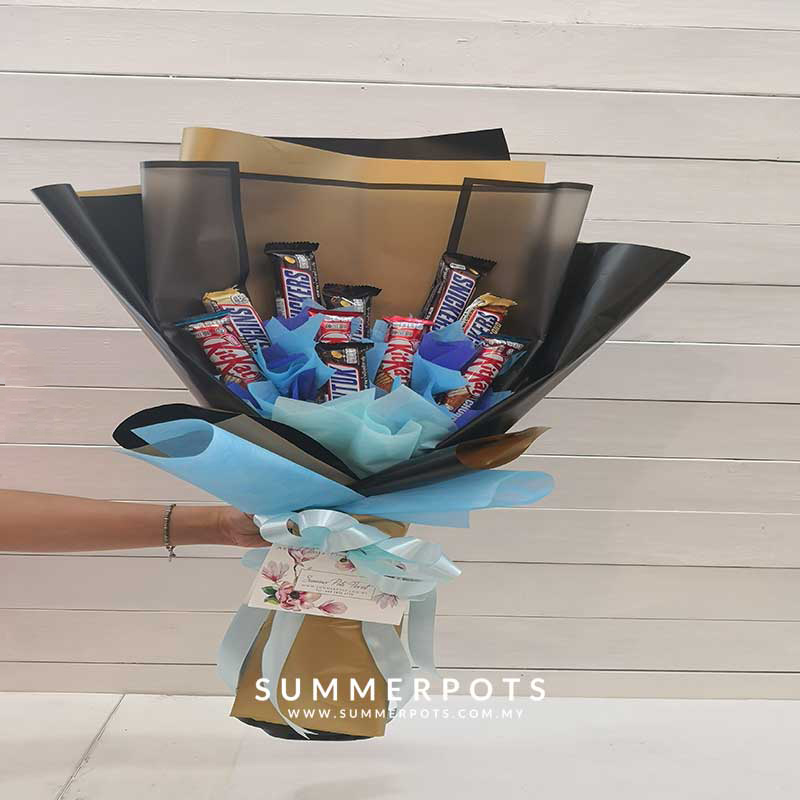 Image Credit: summerpots.com.my
Whether in a box or in a bouquet, Belconi presents the chocolates and/or flowers beautifully, sure to captivate and warm the recipient's heart. Choose from different flower types and chocolate brands, all mixed and matched together, or go down the route of pure chocolate for die-hard chocolate lovers. Available chocolates include Ferrero Rocher, M&Ms, KitKat and Snickers just to name a few.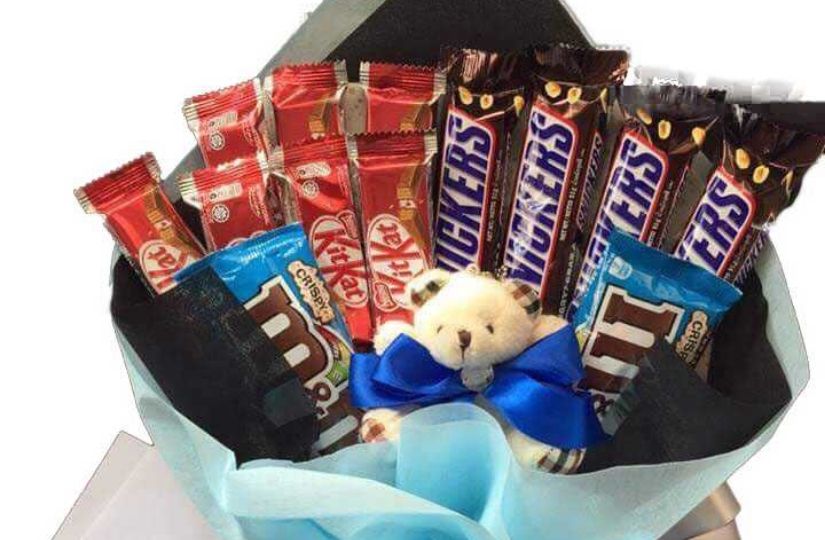 Image Credit: belconi.com.my
See also: Best Online Gift Shops in Malaysia
Get your fill of Belgian chocolate and flowers with love.com.my's curated bouquets, most of which feature the two aforementioned items. There are plenty of flower-and-chocolate bouquets to choose from, but if you're looking for even more options, check out their balloon and bear bouquets/vases as well. Other than that, flower choices are aplenty, suitable for all occasions.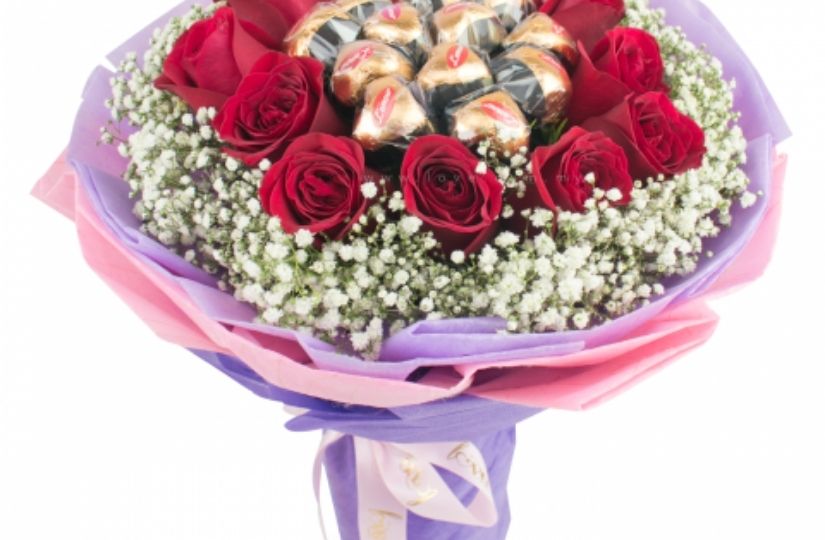 Image Credit: love.com.my
Choose from hand bouquets or box gifts with Aliice Art Florist Shops' chocolate-and-flower combo! Arrangements are classy and attractive, and the powerful combo does a good job of being a beautiful yet delicious gift. Chocolates in a box are available to incorporate into bouquets, or individual chocolates placed in a box adorned with flowers. Whichever you choose, it is sure to be an excellent gift!
Image Credit: aliiceartflorist.com
Step up your chocolate game with FloryGift's chocolate options, featuring brands such as Godiva and Royce. With arrangements and options such as bouquets, vases, baskets and boxes, it'll be hard for you to even pick one--they all look so impressive! Chocolate aside, you can also get wine and fruit gifts, as well as hampers fit for all occasions at FloryGift.
Image Credit: florygift.com.my
See also: Best Preserved Flower Florists in KL & Selangor
Chocolate lovers will definitely enjoy Giflorist's chocolate bouquets, full of chocolates that threaten to burst the bouquet's seams! Beautifully adorned with flowers, these chocolate bouquets will definitely bring warmth and sweetness to the recipient! Though specialising mainly in flower bouquets, they also provide fruit baskets as well as table arrangements.
Image Credit: giflorist.com.my
At Bloom.com.my, they make it easy for you to shop for chocolate bouquets, offering four different kinds of chocolate-related products: hand bouquet, gift set, basket to start off, or simply go big with their Ferrero Rocher Hand Bouquet. Besides chocolates, you can also get flowers, balloons and other gifts on their platform too!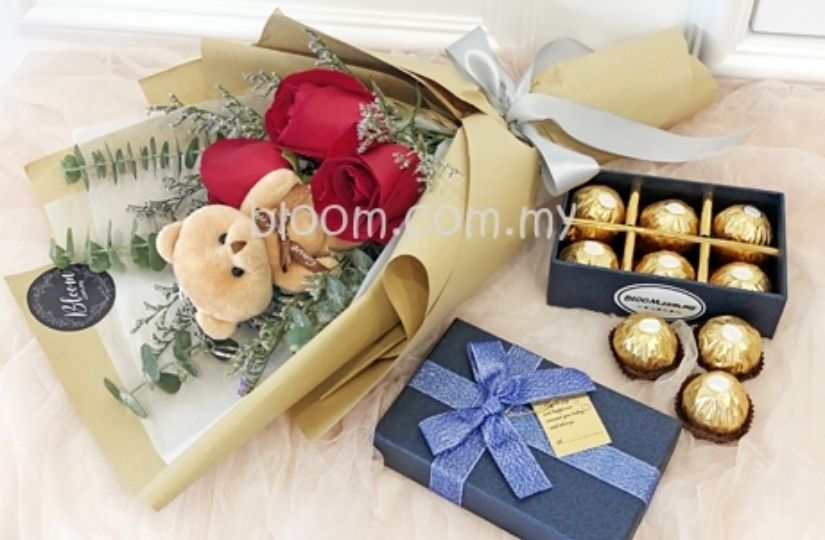 Image Credit: bloom.com.my
Whether in the form of boxes or bouquets, YY Duet Florist & Gift has it all down for you, arranging chocolates and flowers meticulously to bring joy to the recipient. In fact, they provide a great variety of all things arrangeable: flowers, plants, fruits, balloons, vegetables... you name it, YY Duet Florist & Gift probably has it!
Image Credit: yyflorist.com.my
For more gift ideas, check out these personalised gift ideas, or Christmas gift ideas! Happy shopping!
---
---