8 Personalised Gifts Ideas in Malaysia For Different Types Of People
By Michelle Anne Kam - August 17, 2020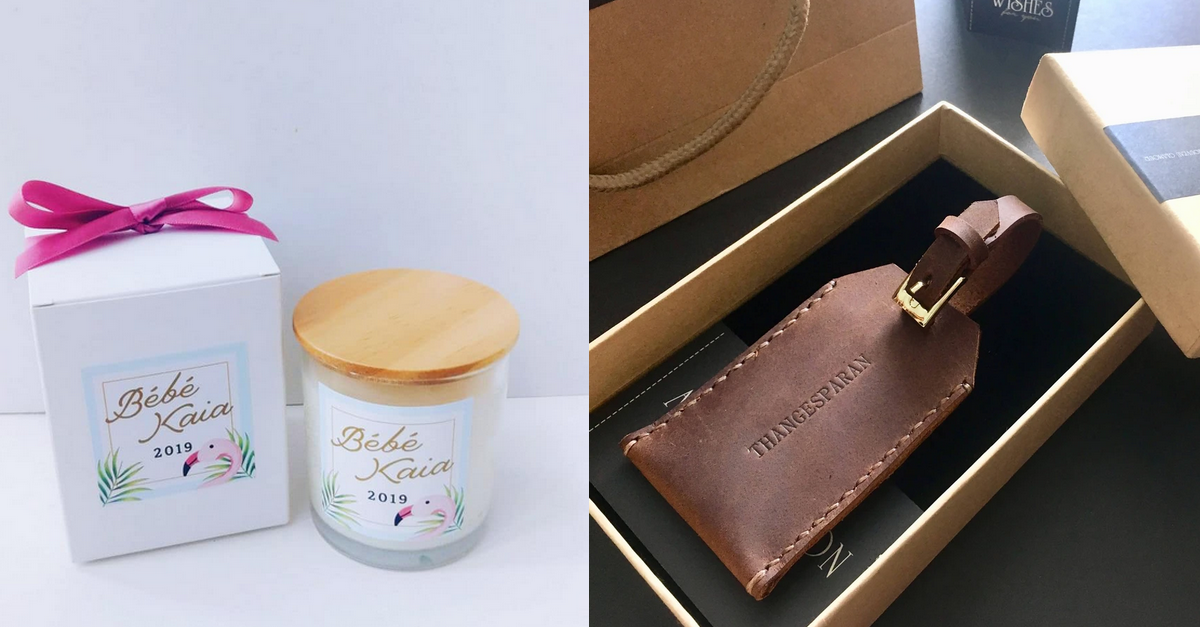 Personalised gifts are known to be more personal, compared to getting a normal, standard gift. It shows that you went out of the way to get a gift specially designed and made for your loved one. It can be hard to find the right gift for different types of people, but here are some personalised gift ideas you can get in Malaysia based on the kind of friend or loved one you're getting it for!
8 Personalised Gifts You Can Buy In Malaysia
---
For The Creatives
If you are looking for a customized gift for someone who loves all things art and they are creative at heart, they will surely love gifts that are pretty and could stir up their creative soul!
Someone who loves art will love to receive a personalized calligraphy card! You could even ask the calligrapher to write words that could encourage or motivational quotes - it'll be a perfect gift!
View other amazing Calligraphers: Best Calligraphers in KL & Selangor
Image Credit: themakerjess's Instagram Page
Anybody that is creative would love to own a sketchbook that has their own name on it! You could request to get their name written on this notebook, along with customized the type of papers, colours and more!
See Also: Best Online Stationery Stores in Malaysia
Image Credit: Ana tomy's Instagram Page

For Travel Junkies
This is pretty straight-forward - what are the best personalised gifts to buy in Malaysia for those who love to travel? Anything that they could bring along with them anywhere they go!
View some of the best travel-related lists such as places to stay, and more here!
To make it easier for them to find their luggage. Get a couple of them with their names on it so they won't frantically search for their bags.
Image Credit: giftr.my
You can't travel overseas without a passport; getting one designed with their names makes it unique and they could even take pretty pictures with them!
Image Credit: giftr.my
For Those That Love To Decorate Their Home
If you notice they are always buying things and filling their rooms or homes with a bunch of home decor, all the more reason to make it more special by getting personalised ones.
Get some candles with either the special occasion written on it or their names, a personalised candle is always better than the ones without any custom wordings on it.
See Also: Best Homegrown Scented Candle Brands in Malaysia
Image Credit: Flufy & Co. Instagram Page
Pillows are a must-have for every room or household - what better way than to get a personalised one that is made of good quality?
Image Credit: giftr.my
For Caffeine Or Tea Addicts
For the ones that can't seem to go about their day without a cup of coffee or tea, getting them something that represents them is an ideal personalised gift to buy in Malaysia!
Help them get their coffee or tea fix on the go with a personalised flask! It'll ensure their drink remains hot while also having their names on them; similar to a Starbucks cup.
Image Credit: giftr.my
To be honest, even though these cups are called coffee mugs, we tend to use them for tea as well, right? You can never get enough of cups especially when mishaps happen and they break. Getting a customized mug is very personal and it shows that you know them very well.
Image Credit: giftr.my
Getting personalised gifts in Malaysia is actually not that hard; it's the matter of what kind of gift and whether it suits the person you're getting it for or not is the difficult part. With our ideas, we hope you'll be able to look for the right gift and make someone smile!
---
---