8 Wedding Dress Trends in 2022 We're Anticipating
By Yiing Zhi - October 01, 2021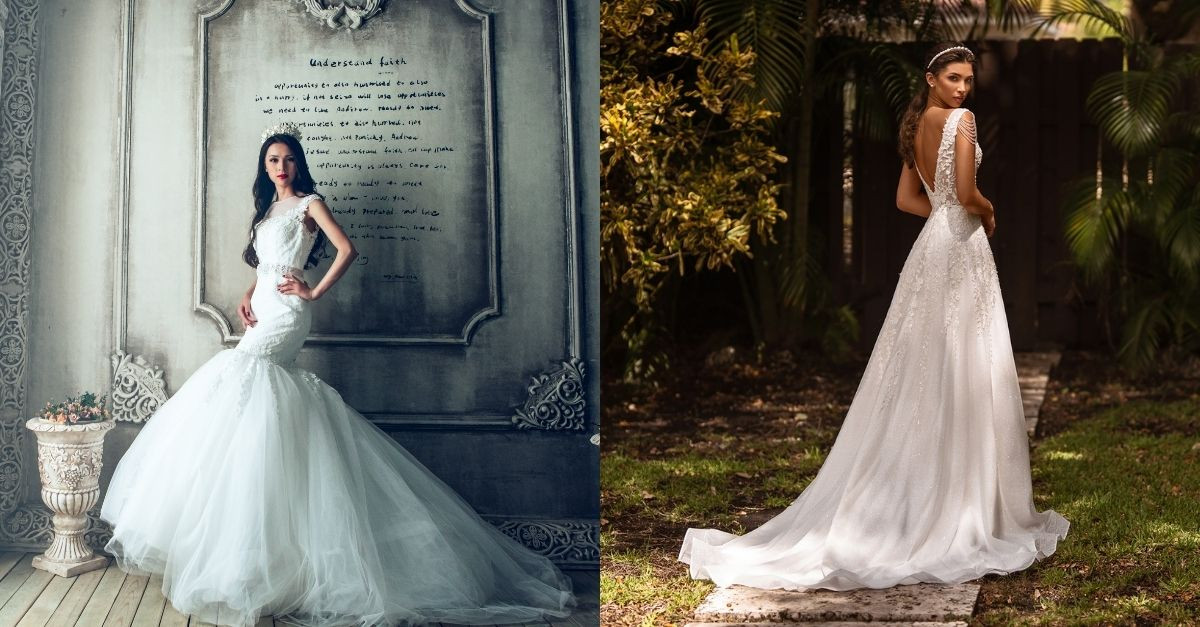 When asked about the "most important day of your life", the answer very often is "my wedding day". And we get it! A wedding is an important occasion that marks your commitment to another, and you'd want things to go exactly the way you want. All things aside, for brides especially, one of the most important aspects of a wedding is probably the wedding dress. For brides-to-be, we have just the thing for you: wedding dress trends in 2022, so you can start sourcing for your dress and picking it (them?) out now!
Wedding Dress Trends in 2022 Be Like
---
1) Deep-V and Square Necklines
Deep-v necklines or plunging necklines are sexy and chic, and any wedding dress featuring a neckline as such to be a showstopper. Wedding dresses with deep-v necklines have been featured in many Spring 2022 bridal collections, and as a familiar type of neckline, you can't go wrong with it if you're confident enough to pull it off. On the other hand, the square neckline is making a comeback as well. You might recognise the square neckline as a staple in the Renaissane, the 90s, or... from Bridgerton. Regency era dresses are mostly in this cut, and it flatters the collarbones and shoulders with its geometric design. If you can't have a ball, you can get married in a Bridgerton-esque dress!
Image Credit: marthastwewart.com
2) Separates/Jumpsuits
For the unconventional bride, cast off the traditional expectations of wearing a dress, and turn to wearing separate top-and-bottom pieces, or opt for a sleek, elegant jumpsuit instead. Crop tops and slacks seem to be very popular in 2022 collections, while your jumpsuit can be more "power suit" or laidback and flowy, depending on what your vibe is. Wearing separates also doens't mean things have to be dialled down to the point of it being boring; you can also add embellishments such as capes, which brings us to our next point.
Image Credit: bridalmusings.com
See also: Best Bridal Houses in Ipoh, Johor Bahru, and Penang
3) Transitional Pieces
In other words, why get multiple outfits when a single outfit can be transformed into at least two, or many? As mentioned above, capes can be a great embellishment and transitional piece. Cape on, dramatic and swooshy. Cape off, simple and casual. Other transitional pieces include overskirts and removable sleeves. Maybe you even want to add some dramatic flair to your wedding by removing said transitional piece at a key point?
Image Credit: brides.com
4) Off-shoulder Sleeves
Taking it one step further from the square neckline, off-shoulder sleeves leave your decollete on visible display--super flattering--and adds a touch of romance to your dress. Off-shoulder sleeves are versatile enough to be in any form of sleeve, and can be adapted to different styles of dresses as well, be it a form-fitting dress, a ball gown, or one of those that feature a dramatic train. Whichever it is, you can count on your shoulders, collarbones, and upper chest (and/or back!) to carry the show!
Image Credit: brides.com
See also: Best Bridal Makeup Artists in Johor Bahru, KL & Selangor, and Perak
5) Sexy Silhouettes
Speaking of form-fitting wedding dresses, those are a trend too! In fact, bring on the sexy for 2022 weddings, because sexy is in. Besides form-fitting dresses, other sexy silhouettes include sheer illusions, open backs, and other skin-baring designs. Simple, silky slip dresses are also in, as are minimalistic dresses for brides who like them fuss-free. Sometimes, less is more, and less can contribute to a sexy silhouette perfect for your wedding too!
Image Credit: onefabday.com
6) Thigh-high Slits
Continuing in the vein of sexy, thigh-high slits are also popular for wedding dresses in 2022. Thigh-high slits are great for putting your leg on display, making it pop. Bring all the femme fatale vibes to your wedding--why not? It's your wedding!--and create an unforgettable impression. You could also pair the slit up with a slinky dress, or even a ball gown, marrying (ha ha, get it?) fashion tropes not usually seen together.
Image Credit: weddingomania.com
See also: Best Wedding Planners in KL & Selangor, and Penang
7) (Colourful) Florals
Who says wedding dresses have to be plain? If you're fond of floral designs on your clothes, good news: wedding dresses of 2022 are big on floral motifs, so you can get married in it if florals are your absolute favourite thing. They can also be incorporated in myriad ways, including the lace trimmings or printed on, resulting in different styles and vibes from sexy to casual and carefree. It all depends on what your vibe is, so go for the florals!
Image Credit: brides.com
8) Mini/Short Dresses
Wedding dresses are usually maxi dresses, but break the rules by opting for a short or mini dress instead. They're so much more fun, and would probably make for better ease of movement as well. Ideal for the modern bride who prefers a non-traditional dress, mini or short dresses can be just as versatile as the traditional maxi dresses, incorporating one or more of the above in different styles as well. Best for showing off your legs, or maybe even your shoes, because why hide them?
Image Credit: bridemagazine.co.uk
These dresses not your cup of tea? Consider a traditional Chinese wedding dress; the Best Chinese Wedding Supplies Stores in KL & Selangor have them!
---
---