10 Best Islands In Malaysia For An Idyllic Vacation
By Yiing Zhi - October 09, 2020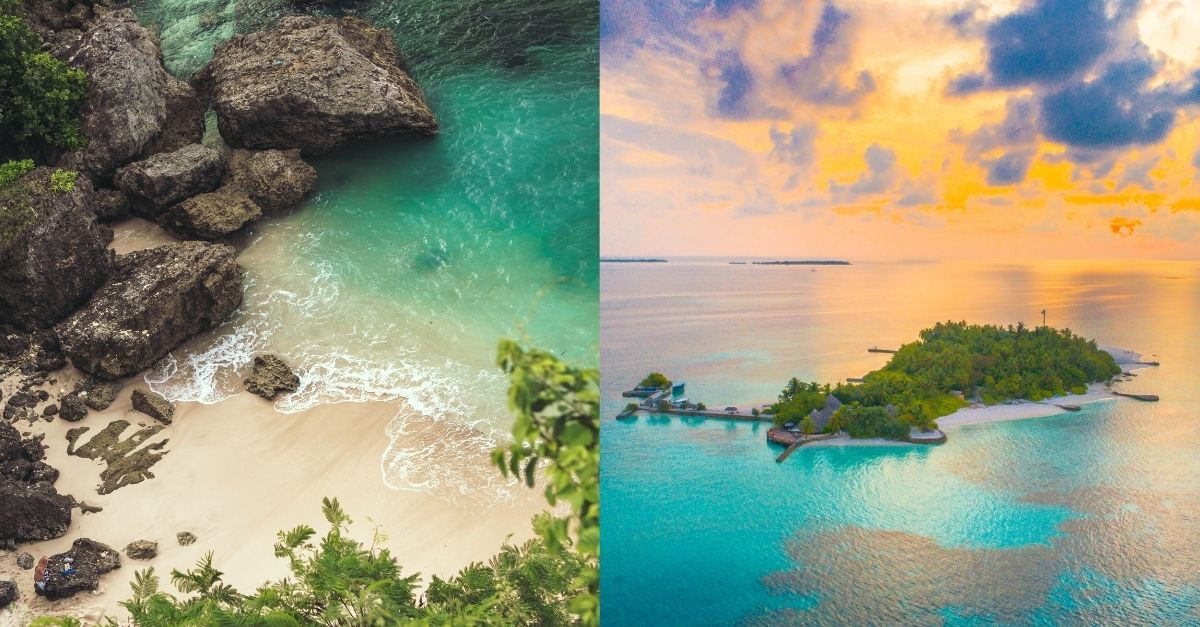 Mention Malaysia, and the first thing that comes to mind is probably the abundance of food. Following closely in second is probably its multitude of islands. As most of you may already know, we have our fair share of islands, and each of them is a little slice of heaven in its own right! On top of really popular, well-known islands like Pulau Tioman, Pulau Redang and Pulau Pangkor, here are another 10 best islands in Malaysia, perfect for your next local getaway!
What Are The Best Islands In Malaysia?
---
1) Pulau Langkawi, Kedah
Otherwise known as the Jewel of Kedah, Langkawi is a wildly popular destination for locals and tourists alike. Frankly, it's easy to see why: plenty of beaches, a geopark, an aqaurium, waterfalls, cable car, a skybridge, a crocodile farm, and all the water sports you can possibly engage in. Also, it's duty free, which attracts hordes to enjoy some drinks there, as well as to purchase chocolate. As such, there are also plenty of resorts and accommodation options islandwide, as well as island-hopping opportunities -- Langkawi is, after all, an archipelago of 100 islands.
Image Credit: livingnomads.com
For starters, check out Camar Resort Langkawi, or other family-friendly resorts scattered throughout Peninsula Malaysia!
2) Pulau Sipadan, Sabah
For those who haven't heard of Sipadan before, Sipadan is actually a world-renown diving site. It is also Malaysia's only oceanic island, being a prehistoric volcano rising 600 metres from the seabed. Formed by living corals growing on top of the said volcano cone, Sipadan boasts one of the rich marine life sites in the world, with avid divers travelling far and wide to spot turtles, sharks, barracuda, manta rays and whale sharks among others.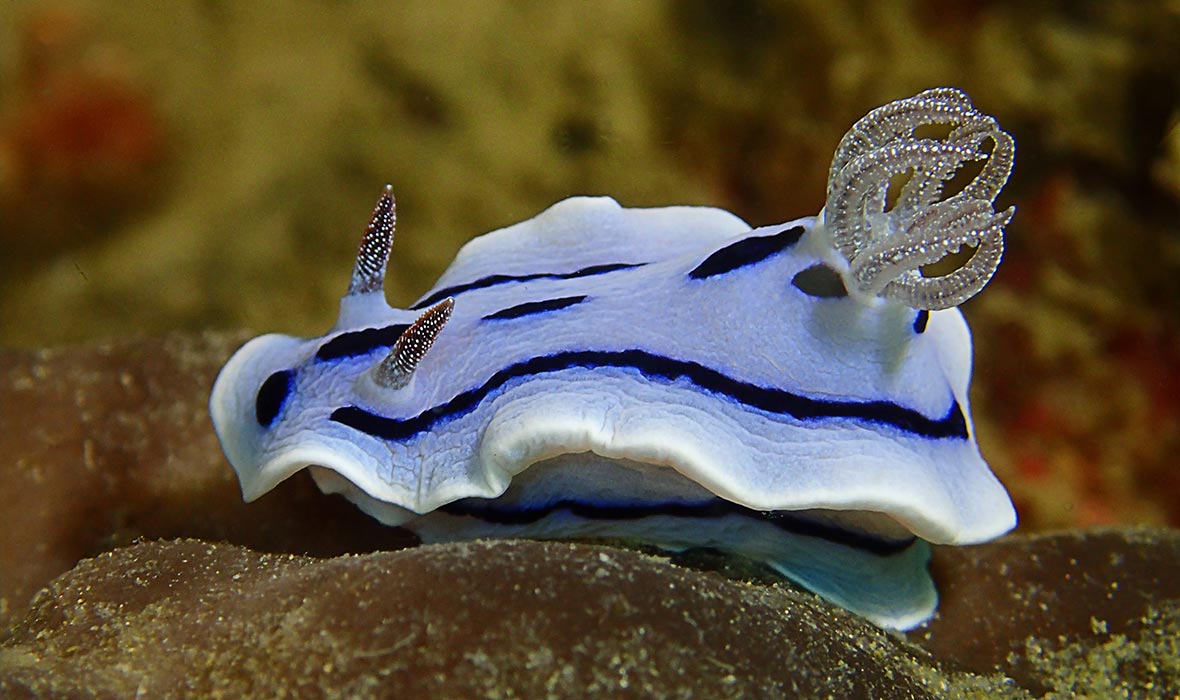 Image Credit: remotelands.com
3) Pulau Lang Tengah, Terengganu
Sandwiched between the islands of Redang and Perhentian (see next!) is Lang Tengah, which translates to "the eagle in the middle" from the Malay language. Featuring a picturesque scene consisting of white sandy beaches, clear blue waters and excellent marine biodiversity, there are plenty of activities you can do here. Sunrises and sunsets are always a breathtaking scene, and of course, you could go snorkelling or scuba diving, as well as visit the turtle conservatory. You can also go jungle trekking if that's what you're into!
Image Credit: summerbayresort.com.my
4) Pulau Perhentian, Terengganu
Pulau Perhentian consists of two main islands, Pulau Perhentian Besar and Pulau Perhentian Kecil, which literally means "Big Perhentian Island" and "Small Perhentian Island". It is also a popular scuba diving spot, and features plenty of accommodation options to cater for every budget, which makes it popular for families and backpackers alike. Fine grains of sand stretch along the coast, and its water is a pristine turquoise, a perfect picture of paradise!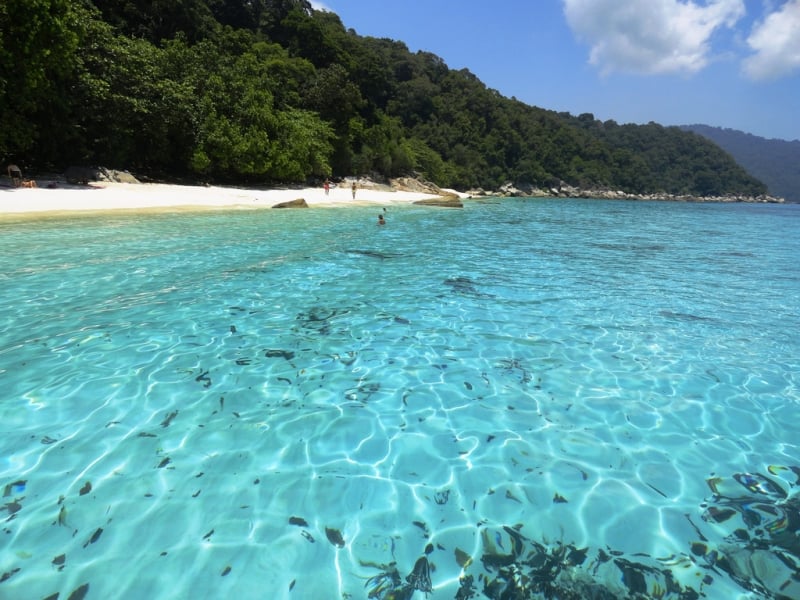 Image Credit: tripzilla.com
5) Pulau Rawa, Johor
Did you know that Pulau Rawa is actually owned by the Johor Sultanate? That's right, vacation on a little slice of royalty-owned paradise on Pulau Rawa, where the water is clear, the sand is fine, and the sky is blue! A relatively small island, one side of the island features white, sandy beaches, while the other side features rocky, vertical cliffs. There are no proper roads, but just walkways, but its abundance of marine life and other idyllic ambience more than makes up for it!
Image Credit: johornow.com
If you're crossing over to Johor itself, remember to also check out some bakeries, dessert shops, and places for afternoon tea there!
6) Pulau Layang-layang, Sabah
Pulau Layang-layang is also known as Swallow Reef in English, and is popular as a suba diving spot. It is especially well-known for the hammerhead sharks in May, which is their mating season. Besides hammerhead sharks, you will also be able to spot pygmy seahorses, jack fish, barracuda and manta rays. The Royal Malaysian Navy also has an offshore naval station there, since 1983.
Image Credit: gilldivers.com
We're thinking you might be going to Kota Kinabalu too, so if you are, check out some of the Best Cafes in Kota Kinabalu!
7) Pulau Kapas, Terengganu
Pulau Kapas means Cotton Island, and if that isn't an inviting name, we don't know what is! The island itself is full of white, sandy beaches, so perhaps the name was derived this way. The beaches are perfect for exploring, but do be warned that some require a low tide for access. You can also go on hikes, but if you prefer snorkelling and diving, Pulau Kapas is also a good place to do so.
Image Credit: summerbayresort.com.my
8) Pulau Pinang
Penang is yet another well-known island, popular not really for its beaches, but rather its rich culture and heritage, as well as its abundance of food. The city of Georgetown is perfect for those who like to explore local heritage, consisting of British colonial buildings, Chinese shophouses and mosques. Otherwise, embark on a gastronomic adventure, with selections ranging from street food to hipster cafes. Still seeking the beach? Batu Ferringhi is where to go!
Image Credit: thecrazytourist.com
Street food? Try some apam balik or grilled fish!
Don't forget Nyonya food as well, and perhaps follow up at a wine bar afterwards?
For the ultimate relaxation session, head over to a spa & wellness centre!
9) Pulau Tiga, Sabah
Did you know that Pulau Tiga is the first ever location for the hit reality series "Survivor"? So much so that it's even sometimes referred to as "Survivor Island"! While swimming, snorkelling and kayaking are all fun activities you can partake at Pulau Tiga, there's actually something else quite special you can do there: take a mud bath! The mud comes from a volcano, and it is therapeutic and natural. There's also a snake island nearby, if you're interested in these slithering creatures!
Image Credit: theculturetrip.com
10) Pulau Tenggol, Terengganu
A small island off the coast of Terengganu, Tenggol is lesser-known compared to its neighbouring islands, but all the more peaceful and serene for it. However, tourism has also boomed on the island in recent years, so head there before it erupts in a flurry of tourist activity! Some actually prefer to dive at this island, citing healthier corals due to lower human traffic, as well as abundant marine life. All in all, Tenggol is the place to go if all you want to do is get away from the crowds!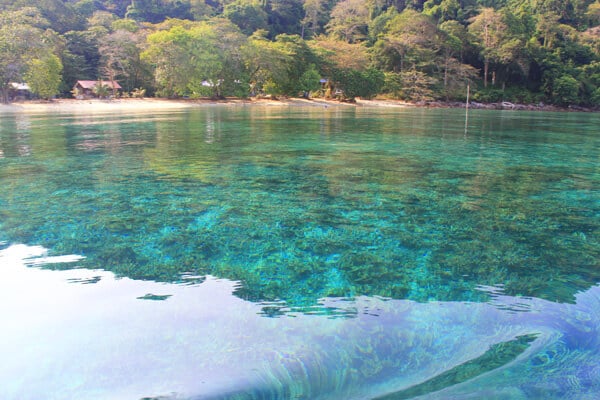 Image Credit: chasingplaces.com
For more travel & accommodation options, you can also check out these staycation destinations or hotels with an infinity pool!
---
---