7 Things To Consider When Planning A Beach Wedding In Malaysia
By Yiing Zhi - August 06, 2020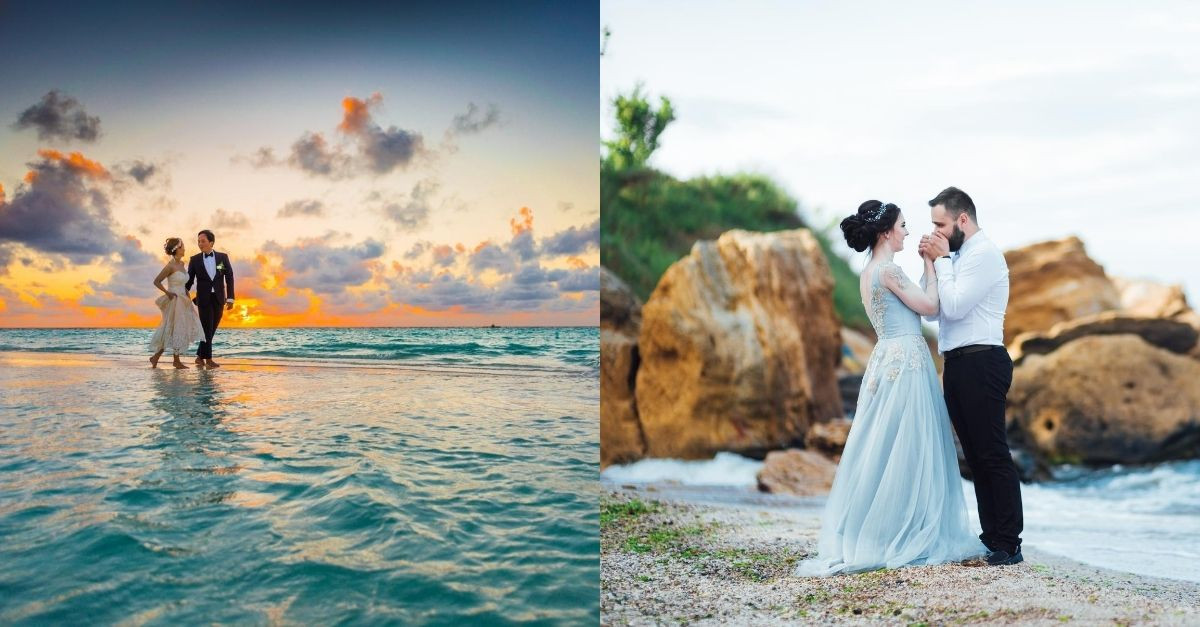 Everyone knows that Malaysia is a country with tropical weather. Most of the time, it's hot and humid, but it can also suddenly rain without warning. Plus, we Malaysians tend to avoid the heat as much as we can, so much so that most events are held indoors where we can enjoy the shade and air-conditioning. The events in question include weddings, where most are held at halls, hotels or other similar wedding venues. While an indoor wedding is comfortable and probably a preferred option, why not also consider an outdoor wedding, specifically beach weddings? Malaysia is blessed abundantly with various islands and beaches, so couples who are planning for a beach wedding in Malaysia will have multiple options. But let's also take a look at a few things you'd need to consider for a beach wedding in Malaysia.
Tips When Planning A Beach Wedding in Malaysia
---
1) Venue
Obviously the venue is the most important, seeing as you're going to have it at a beach. But which beach can you get married at, and would you choose a private or public beach? Maybe you don't actually want to get married on the beach itself, but somewhere overlooking the beach instead? Whichever it is, check out these options.
Perched right next to the beach, Club Med Cherating in Kuantan is perfect for those who love the beach. Imagine having the great, blue sea as your wedding backdrop, as you say your vows and/or enjoy a meal with the sound of lapping waves. Definitely one of those wind-in-your-hair, a picture perfect moment of ultimate bliss. Club Med Cherating is open to events, so this could be it for you!
Image Credit: 2cents.my
If you're looking for a quieter place, Camar Resort Langkawi could be it! A 5-acre beach-facing resort, Camar Resort Langkawi is located on Pantai Tengah. Langkawi is a popular destination in itself, and as an island it does have plenty of beach spots to offer. While it's unclear if the resort itself is available for events, it is a pretty good stay if you do get married on a beach nearby -- Camar Resort boasts the longest swimming pool in Langkawi.
Image Credit: tripadvisor.com
See also: Best Staycation Destinations in KL & Selangor if you want a different kind of wedding, but a beach wedding. Some of them are available as wedding venues!
2) Attire
While a heavy, sophisticated princess ball gown is perfect to walk into any ballroom and have all eyes on you, we doubt that you'd want to drag the same said dress through sand. Instead, opt for a lighter gown akin a summer dress, which will also fit the theme of "beach wedding". Men can still wear a suit, or maybe go slightly casual and eschew the coat and go for a smart shirt and pants combo.
Jeremy Tok Tailor has been around since 2012, and they have made suits for ministers, CEOs and celebrities. Jeremy himself and his team focuses on delivering a superlative fit, making sure that you will look outstanding in their outfits. Whether you want to go for a full suit or not, you'll be in good hands with them.
Image Credit: jeremytok.com
Twenty3.My has grown to be a well-known and well-loved brand, providing all sorts of female fashion apparel from tops to bottoms and yes, even bridal and bridesmaids' gowns. At Twenty3.My, there's a wide array of bridal gowns to choose from, including maxi yet light and flowy gowns perfect for the beach!
Image Credit: twenty3.my
See also: Best Bridal Houses in Ipoh, Johor Bahru and Penang where some offer bridal gown selections as well.
3) Decor
A wedding isn't really complete without a set up to complement the lovely occasion, and some of the basic decor items include flowers and balloons. If you're wondering where to get them, here are some options to help you get started.
Lervish actually specialises in bridal bouquets and wedding decoration, so you definitely can't go wrong with them. What's more, they're ideally situated in Penang, so if you have a beach wedding in Penang, you know who to call for flowers!
Image Credit: Lervish Flower Couture Facebook Page
If you love balloons at your event i.e. wedding, then check out Balloon&Party Sutera Utama! They house various kinds of balloons, including helium, latex, foil balloons and special decoration set ups as well. Furthermore, they also have other party supplies that you might want too! Located in Johor, this could be good if you have a beach wedding in Johor, namely one of the nearby islands.
Image Credit: Balloon&Party Sutera Utama Facebook Page
Other locations to consider: Best Florists in KL & Selangor, Best Party Supply Stores in Penang
4) Door Gifts
At events including weddings, it is common for the hosts to provide guests with a door gift to thank them for attending. Whether or not you are having a beach wedding, you'd need these gifts anyway!
Printcious Gifts is your one-stop solution to all things personalised, whether it's a t-shirt, mug and fridge magnet. Basically, just choose your item, and decide how you want to personalise it. Add text, images or background colour; most of everything is customisable. You can actually do it yourself online, and select the quantity before adding to cart to place your order!
Image Credit: Printcious Gifts Facebook Page
Not sure what to give? Everyone loves notebooks, even if they do not use them regularly! Plus, we're not talking about plain, old notebook; Salt X Paper provides quirky notebooks in various designs, as well as postcards, rubber stamps and stickers. With any purchase of RM100, enjoy free shipping nationwide, so get cracking on this!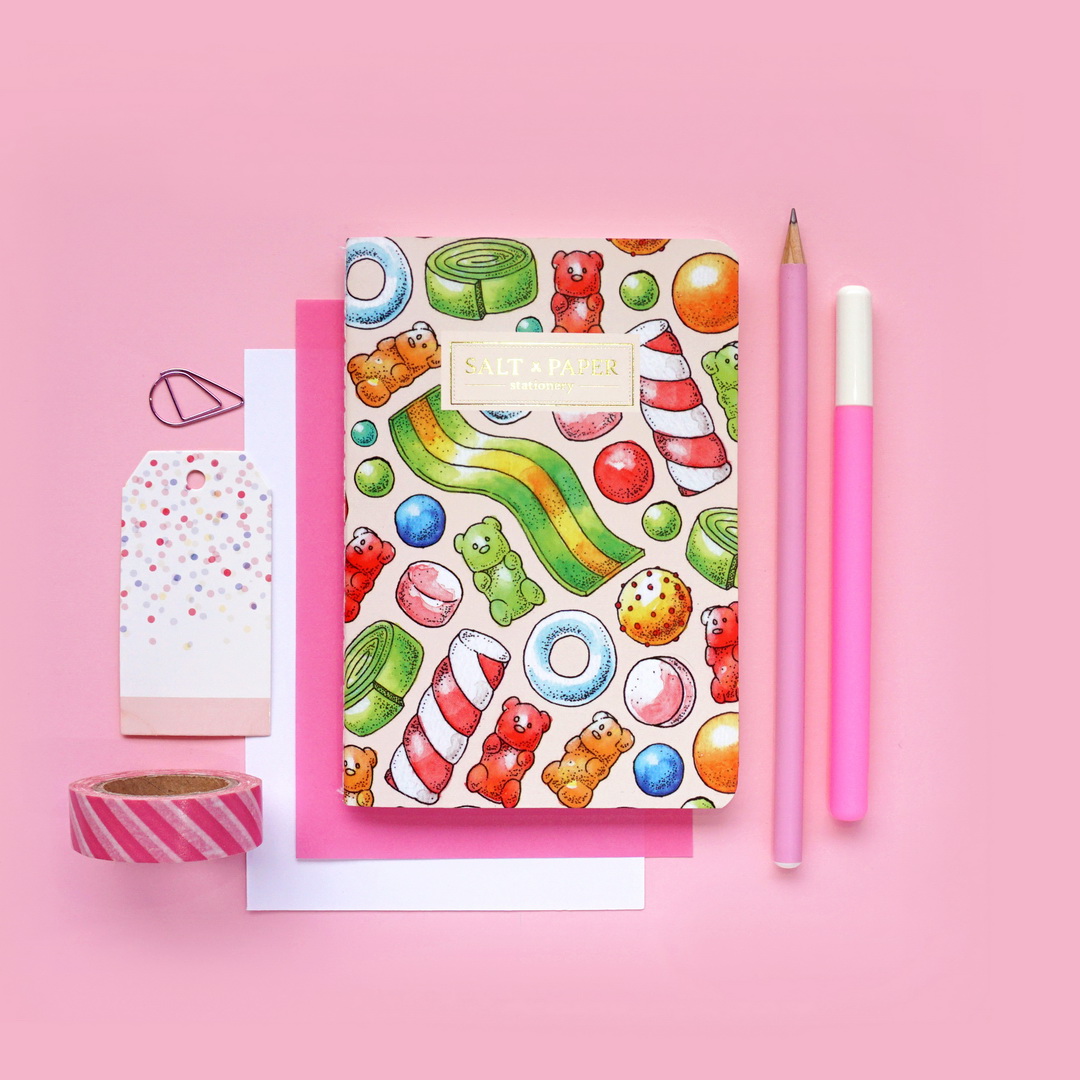 Image Credit: saltxpaper.storehub.me
5) Makeup
It's a given that anyone would definitely want to look their best on their wedding day, more so the brides! And that usually means getting a makeup artist to doll you up as radiantly as possible!
Founder of Vinxmakeup Gallery Vinxent is an award-winning makeup artist, and he is a jack of all trades in various makeup styles, including bridal. Together with his team, Vinxcent uses quality products to transform you into a beautiful bride, allowing you to shine on your big day!
Image Credit: Vinxmakeup Gallery Facebook
If you favour a look that is classy, modern and timeless, Paulynn is the one for you, makeup-wise. As a Korean-certified makeup and styling artist, Paulynn is well-versed in several beauty artistries, with bridal being one of them. There's also nothing better than having someone to help calm your nerves (if any) while making you look pretty -- Paulynn is praised for her friendliness and warmth!
Image Credit: Paulynn Chong Makeup Lab Facebook
More Locations: Best Bridal Makeup Artists in Perak
6) Photography/Videography
How are you going to document those wedding-on-a-beach moments if you don't engage in photography and/or videography services? Having a beach wedding in Malaysia is considered somewhat untraditional, so you'd definitely want everything to be recorded, to be cherished for years to come.
Specialising in both local and international wedding photography, WLoon has been to several places capturing newly-weds, so a beach should pose no problem. He has a keen eye for looking at things from a different perspective, ensuring that your wedding pictures will be one-of-a-kind!
Image Credit: WLoon Photography Facebook
Besides photography, many would want clips and videos as well, as the video would be able to capture each moment from the wedding, whether from guests' happy faces, the beautiful set up or every small gesture and expression brimming with love between the newly-weds. This is where BY Weddings Gallery comes in, who specialises in all things wedding ranging from cinematography and photography. Benson Yin, who's an award-winning wedding photographer, leads his teams of photographers and videographers.
Image Credit: BY Weddings Gallery Facebook
More photography and cinematogaphy services: Best Wedding Cinematographers in Johor Bahru, Best Wedding Photographers in Johor, Best Wedding Photographers in KL & Selangor
7) A Backup Plan
We hate to say it, but Malaysia's weather can be erratic, and weather forecasts are just that: forecasts. If you're lucky, all will be good and turn out well, and the sun will be shining. But what happens if it rains, or the waves at the beach you wanted to get married at suddenly turn rocky and dangerous? You would definitely need a backup plan, and we don't mean stressing about it all by yourself.
As its name suggests, your wedding will be full of pretty little things, so long you leave it to them to plan and coordinate everything. After all, that's what wedding planners are for! They believe that the smallest details pull the whole big picture together, so with this attention to detail, they will have a good plan in case of a bad beach day!
Image Credit: Pretty Little Things Facebook
Touching Hearts Wedding Concepts wants nothing but the best for you on your wedding day, ensuring that everything goes off without a hitch, but you do get hitched! They collaborate and work closely with various other businesses and sectors, bringing everything together for your wedding day. The best part is, even if your wedding isn't where they're based (Penang), they still make sure that everything is arranged to perfection!
Image Credit: Touching Hearts Wedding Concepts Facebook
A beach wedding in Malaysia would definitely be one that turns heads, and a unique experience in itself! With this, we hope your beach wedding will go as smoothly as possible, and wishing all newly-weds and/or engaged couples who read this the very best on your marriage!
---
---