5 Activities To Do Besides Drinking On Ladies' Nights in KL & Selangor
By Yiing Zhi - August 18, 2020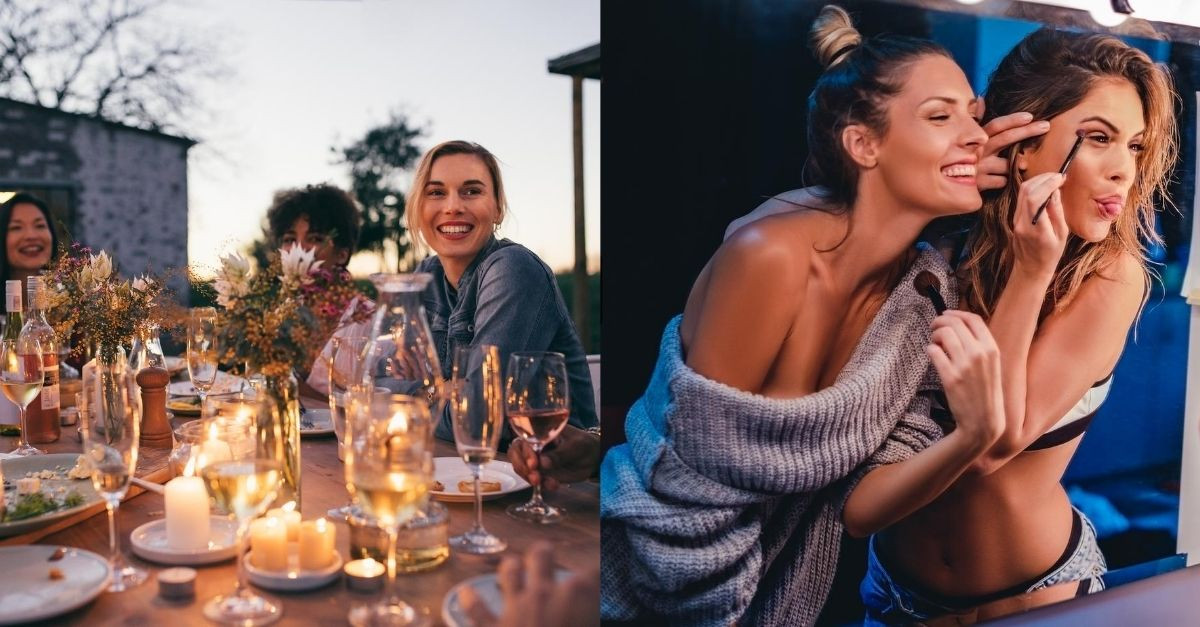 At the time of writing, ladies' night doesn't seem to be much of a thing, what with the COVID-19 pandemic and the subsequent SOPs that are in place nationwide. Ladies' night has always been a night for well, the ladies, to hit the clubs and/or bars, and let their hair down with less of a charge than usual, and also you know, to hang out with the girls. But just because the "traditional" ladies' night is being put on hold doesn't mean you have to sacrifice girl time! We're here to help you plan some activities to do in lieu of the ladies' night you once knew. Let's go, girls!
What To Do For Ladies' Nights In KL & Selangor?
---
1) Get In A Pre-Ladies' Night Pampering Session
Uh-huh, that's right, who says that ladies' nights have to start at night? Make it a half-day trip out with the girls by getting in a pampering session before your night out, whether by getting a facial, hair treatment or a mani-pedi. A girl's got to look her best!
Beauté Library has customised facial treatments to target the different needs of different skin types, which means you'll be in good hands here no matter your skin type. Besides facial treatments, they also provide hair removal services, as well as bust enhancement and reshaping. Last but not least, enjoy the ultimate spa experience, which allows you to relax both the mind and body to emerge completely rejuvenated!
Image Credit: Beauté Library Facebook Page
The #1 beauty salon brand is South Korea, LeeKaJa Hair Salon is now in Malaysia, ready to help you look and feel like your favourite K-pop celebrities! At LeeKaJa Hair Salon, they offer more than hairstyling services, including manicure & pedicure, barber, scalp, facial, and eyelash lifting services at the same time -- it's practically a one-stop beauty salon! Oh, and also, check out their interior, which is garden-themed and totally Instagrammable!
Image Credit: LeeKaJa Hair Salon Facebook Page
Sommerset Nails & Waxing Bangsar is located in the Telawi area of Bangsar, which may we add, is the perfect place to kick off ladies' night in KL & Selangor because there's plenty of good food there, with varied cuisine and a smattering of bars and dessert shops. Back to Sommerset, you can opt for a simple mani-pedi, or go for one of their spa manicures. Nail designs at Sommerset are said to be unique, so step out with the nails looking fresh!
Image Credit: Sommerset Nails & Waxing Facebook Page
More options in the KL & Selangor area to prep you for ladies' night? Here are the other Best Facial Centres, Hair Salons and Nail Salons!
2) Eat, Eat, Eat
It is part of Malaysia's culture; to eat. There's no better bond than bonding over a shared meal, and it'd be such a waste to not take advantage of the various cuisines we have here in Malaysia. Whatever you think you want to it, Malaysia most likely has it, and especially in the KL & Selangor areas too!
If you're looking for something simple and doesn't require you to dress up at all, a burger place is perfect. Check out Spade's Burger, which has made its mark in several states nationwide, including SS15 in Subang Jaya. (Can we just add again that SS15 is also practically a food haven, but that's a whole other article to be written?) Choose from beef, pork, chicken and salmon patties, sandwiched between charcoal buns and drizzled with their homemade sauce.
Image Credit: Spade's Burger Facebook Page
Mm, for something a little more atas and international, why not sample some French cuisine? Fremch FEAST is actually a house built in the 1930s, located at Tengkat Tong Shin. Besides the food and wine to enjoy, you can also enjoy the interior of this lovely house. Menu-wise, French FEAST has a selection of Starters, Main Courses, Dessert and Cheese for you to choose from. Bon appetit!
Image Credit: French FEAST Facebook Page
Looking to spice up your life... literally? Then get some Indian food, which contain lots of herbs and spices in their dishes! Amidst an elegantly-designed interior, enjoy Khan's delicious Lamb Shank Briyani or Chicken Briyani, or opt for their Special Thaali, served with rice, meat, vegetables and other sides. Remember to wash it all down with Kulfi, which is ice cream!
Image Credit: Khan's Indian Cuisine Facebook Page
More cuisine to choose from here, including Banana Leaf Rice, Chinese Muslim, Mexican, Nyonya, Thai, Vietnamese and Yakitori.
3) Satisfy Your Sweet Tooth
After dinner, of course you can go for drinks, but again, at the time of writing there's just no "ladies' night" in that sense. So especially if one, two or all of you have a sweet tooth, you could actually go for dessert instead!
You probably should have seen this coming: of course we had to introduce one of those tea outlets! Chatto is actually a homegrown tea brand which is inspired by Japan's concept of a tea bar, and totally unlike most other (bubble) tea brands which are heavily influenced by Taiwan and its drinks/set up. As you can probably tell, they have heavy emphasis on the quality of tea, and a few things you can try here include Hojicha Green Tea, Kee Mun Tea and Brown Rice Tea.
Image Credit: Chatto - Handcrafted Tea Bar's Facebook Page
More of the Best Bubble Milk Tea Brands in Malaysia here!
Bubble tea not your thing? We've got you covered with yogurt drink! So it might not be alcohol, but it's still a drink, and healthier as well! At Tien Tien Yogurt -- which means "everyday" in Mandarin, by the way -- they provide a nutritious range of yogurt drinks. The yogurt itself is made in-store to ensure optimum freshness, and you can choose beverages from either the Fresh Yogurt Smoothies or Cereal Yogurt Smoothies categories.
Image Credit: Tien Tien Yogurt's Facebook Page
More of the Best Yogurt Drinks in KL & Selangor here!
4) Enjoy The City Lights
By that, we mean booking to stay a night in the glittering city, to have the ultimate ladies' night in KL. After all, KL is home to many hotels and accommodation options, and many of them have rooftop bars and/or infinity pools. It would be a glorious night of talking, laughing and taking dips in the infinity pool with your closest girlfriends!
The Kuala Lumpur Journal Hotel is a boutique hotel in Bukit Bintang, which means it's a stone's throw away from Changkat. With its strategic location, there's plenty to see and do, but do not sleep on their pool. Located on the rooftop, their pool is of saltwater, and the whole set up of the place is reminiscent of swimming clubs of yesteryears, with its bright paints and retro motifs. In other words, Instagrammable; must-go.
Image Credit: The Kuala Lumpur Journal Hotel's Facebook Page
Anyone who loves a rooftop, pool or both would love this one right here! For those who want to just be on the rooftop without getting wet, there's a bar and deck chairs. There's the pool itself for those who want to take a dip. But best of all is probably the decor of the bar, which features plenty of hanging lamps to lend the atmosphere a magical, fairytale-like vibe!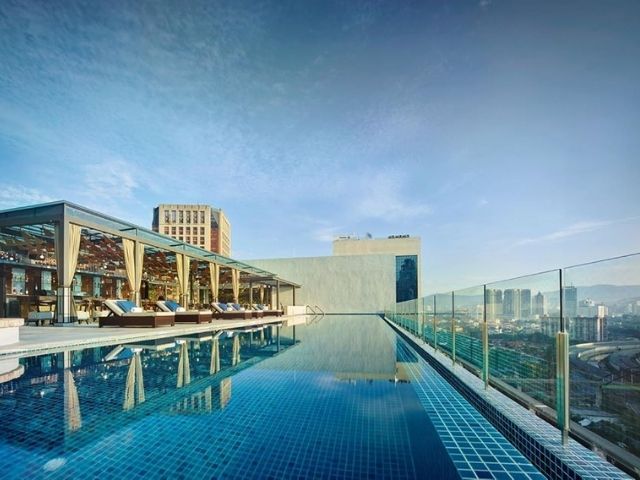 Image Credit: Hotel Stripes Kuala Lumpur's Facebook Page
Discover more Best Hotels With an Infinity Pool in KL & Selangor, or Best Staycation Destinations in KL & Selangor!
5) Stay At Home
Oh no, no, before you groan in dismay at the words "stay at home", hear us out. Home is good, safe, familiar and comfortable. All you need to do is gather at someone's house, put on a movie you all agree on, and literally just chill, but not without these things! Alright, it's drink o' clock, and all you have to do is lift a finger, thanks to these Best Alcohol Delivery Services in KL & Selangor, where you can order your favourite drinks and get them delivered to your doorstep. Also, relax and pick out your favourite scents from these Best Homegrown Scented Candle Brands in Malaysia, which will definitely be perfect for ladies' night right at home! If you're not up for a movie, drinks, candles and a beauty routine is the tried-and-true method for a girls' night in too!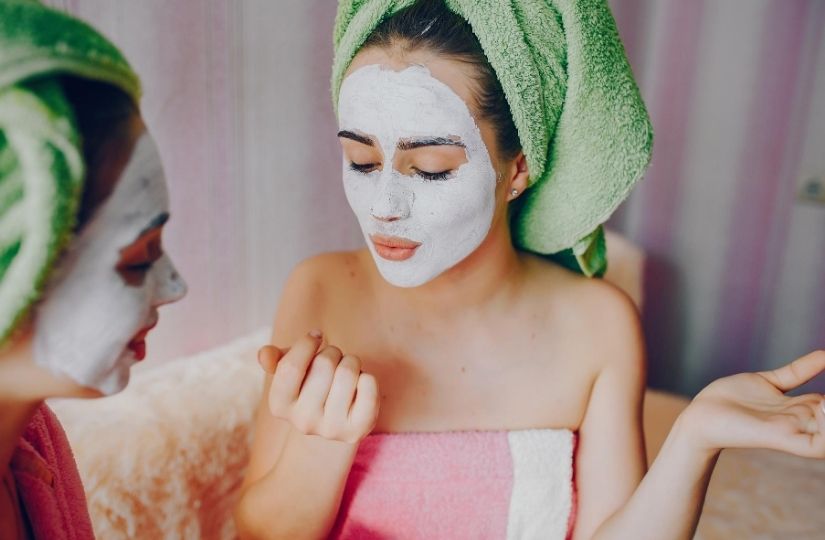 And there we have it for an alternative kind of ladies' night in KL & Selangor, because we have to adapt to the changing times. At the heart of a ladies' night, whether in or out, lies the bond we call sisterhood! Celebrate the night with your girlfriends, and hit them up to plan your very own kind of ladies' night now!
---
---