10 Helpful Apps For Solo Travellers
By Casey Chong - July 12, 2020
Travelling alone can be both fun and intimidating, particularly if you are a first-timer. Which is why having a few relevant apps on your phone does help to make your trip all the more pleasant and smoother. Here, we have compiled 10 Helpful Apps For Solo Travellers in alphabetical order that you might find useful.
---
1) Airbnb
Staying at a hotel sounds too old-school for you? Then, Airbnb is your next best alternative. Not only does it offer a cheaper price by comparison but it also allows you to book a different type of homestay experience in over 190 countries. You can also use it to search for listings of available travel accommodations and experiences such as activities, sightseeing or food tours.
Image Credit: airbnbsecrets.com
2) Backpackr
The name of this app says it all. Backpackr allows you to connect with like-minded backpackers and travellers who shared similar interests. There is a "Common Room" feature where you can ask relevant questions and set up the dates & places for a meet-up. Basically, it's like a chance of making a new friend(s) and who knows, you might find yourself an ideal travel companion. Another huge plus about Backpackr is the exclusive travel deals and discounts on hostels, pub crawls and restaurants in over 160 countries.
Image Credit: betalist.com
3) Couchsurfing
Not into Airbnb? Here's another recommended alternative for you: Couchsurfing, a popular lodging app suitable for solo travellers looking for a place to crash. You get to stay and interact with the local host, make new friends or join a group event.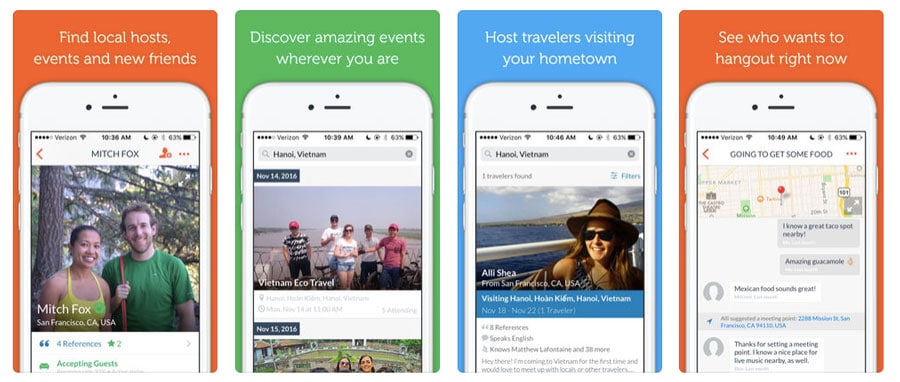 Image Credit: thesavvybackpackers.com
4) Eatwith
Bored of eating alone while travelling places? Well, this app helps you to connect with the locals in over 130 countries. You can choose different kinds of dining experience regardless of brunch, lunch, dinner or even food tasting. If that's not enough, various cooking classes and food tours are also available. You could say Eatwith offers the best of both worlds: chances of enjoying good food and meeting new people at the same time.
Image Credit: Eatwith YouTube
5) Google Translate
Unless you are travelling to places where they speak your language(s), you will likely suffer from language barriers. No doubt it can make your trip unpleasant if you have a tough time trying to communicate with the locals. Thankfully, there's a handy solution with the help of a translation app. Among the most popular one is, of course, Google Translate — the app that allows you to translate via typing at 103 different languages. You can also do more by translating 59 languages even if you are offline or use 2-way conversation mode via speech translation in 32 languages.
Image Credit: blogs.library.mcgill.ca
6) NordVPN
Sure, you can always rely on public or hotel Wi-Fi network. But they are generally unsecured and vulnerable. This is particularly true if you use your phone to browse sensitive information. Or perhaps taking care of important business like sending an email and conduct online banking. In order to protect your online privacy, your best bet is to download a VPN (virtual private network) app. Among the best of its kind is NordVPN, which provides military-grade encryption that hides your IP address and allows you to browse anonymously without worries.
Image Credit: vpnden.com
7) The Outbound
Think of it as your virtual travel agent. And it does more than just offering a tour guide on famous cities and attractions from around the world. Solo travellers who want to step up their adventure game can even find places like remote islands, hiking/camping spots or anywhere that rhymes with "hidden gems". You can also read important travel tips, reviews from other fellow travellers about particular destinations and travel stories to get you all inspired.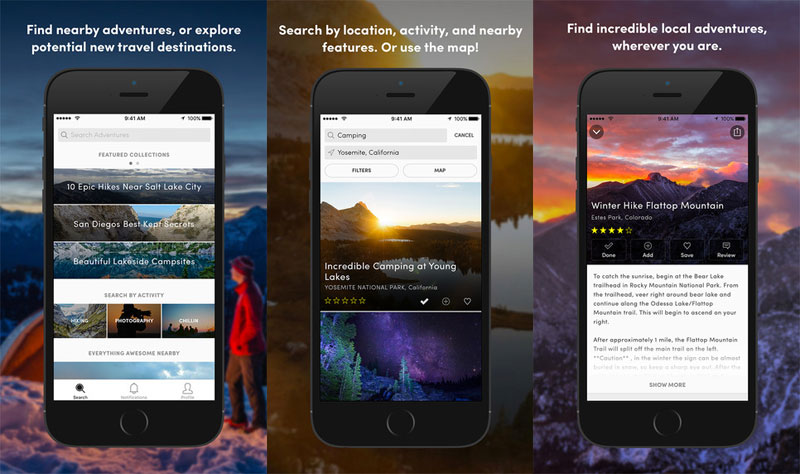 Image Credit: diygenius.com
8) Tourlina
This particular app is designed strictly for women, where Tourlina allows you to search and connect with other like-minded female travellers. And in case you are worried about its reliability, rest assured that Tourlina means serious business when it comes to safety. Which means only verified users are allowed to join the chat.
Image Credit: thepointguy.com
9) TripAdvisor
TripAdvisor needs no introduction. This hugely-popular app, which is also available for desktop, offers honest reviews from locals and travellers on places like hotels, restaurants and attractions. You can also look for useful tips, advice and find recommended places no matter where you are.
Image Credit: sunglassesrequired.com
10) TripWhistle Global SOS
For solo travellers who own an Apple phone, this app is a must-have. TripWhistle Global SOS is basically a safety app that allows you to connect the proper authorities regardless of police, ambulance or fire department. Some of the notable features include a comprehensive list of different emergency numbers worldwide and even enable you to pinpoint your exact location, complete with latitude & longitude as well as map and street address.
Image Credit: thepointsguy.com
---
---