10 Decadent Cake Spots To Order Online For Valentine's Day
By Casey Chong - February 03, 2021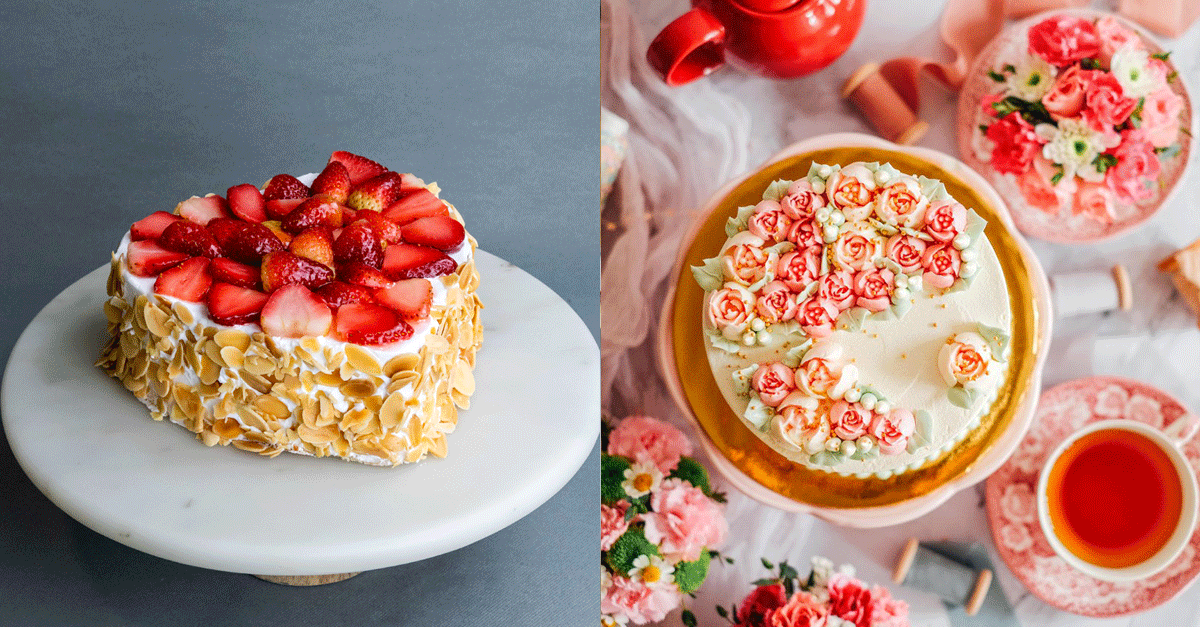 Pamper and surprise your loved one with a cake this Valentine's Day! From classic choices like chocolate and vanilla buttercream cakes to the rich cheesecakes, we have compiled 10 places that offer these delectably sweet baked goods. And here are the 10 Decadent Cake Spots To Order Online For Valentine's Day.
Online Delivery Cake Spots For Valentine's Day
---
Offering over 800 premium cakes to choose from, there's something for everyone at Eat Cake Today under its single platform. They have cakes for different special occasions from birthdays to Valentine's Day. For the latter, some of their bestsellers include Purple Roses Jelly Cake from Jerri Home and Hearty Strawberry Shortcake from RE Birth Cake.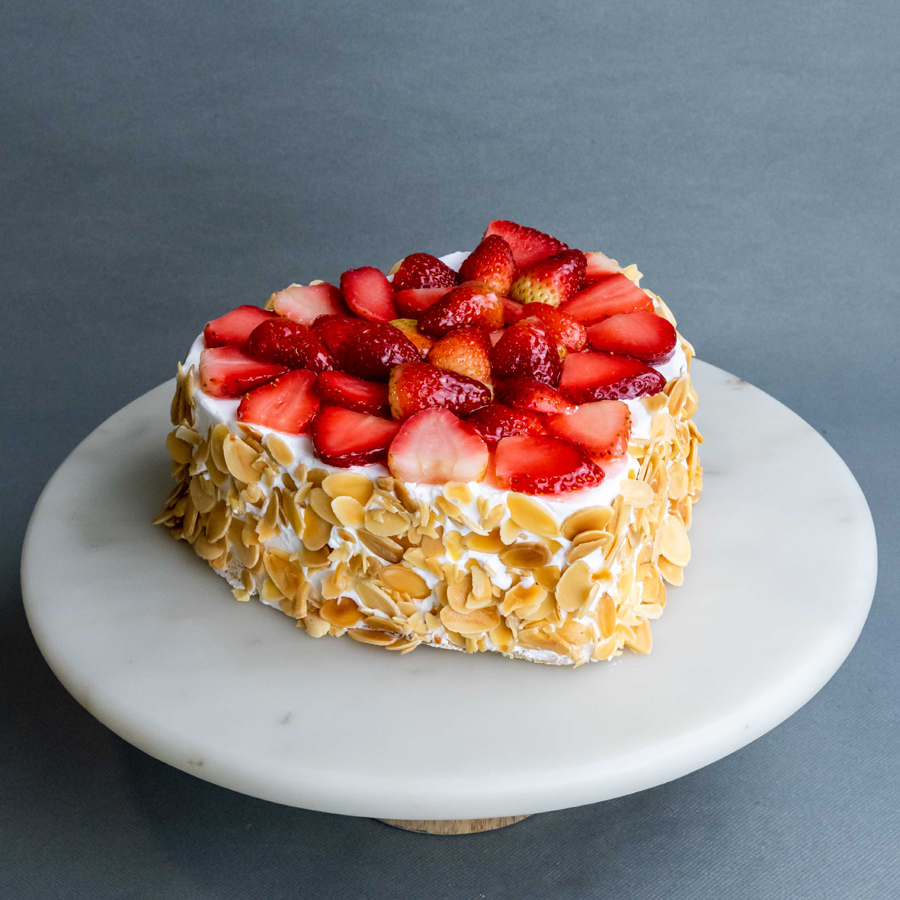 Image Credit: eatcaketoday.com
Here's a one-stop online cake delivery service that features some of the best bakeries in Klang Valley and Penang. Cake lovers can find all things related such as cream cakes, cheesecakes and ice cream cakes. They have cakes specially made for Valentine's Day too, offering the likes of strawberry-based Queen of My Heart (Princess Crown) and You Complete Me (Sweet Pillow) from Kindori Moments. September Bakes, in the meantime, has come up with all-in-one cake sets including Adore You Bundle and Cherish You Bundle -- both of which include a premium chocolate-based whole cake, a foil "I Love You" balloon and a medium-sized teddy bear!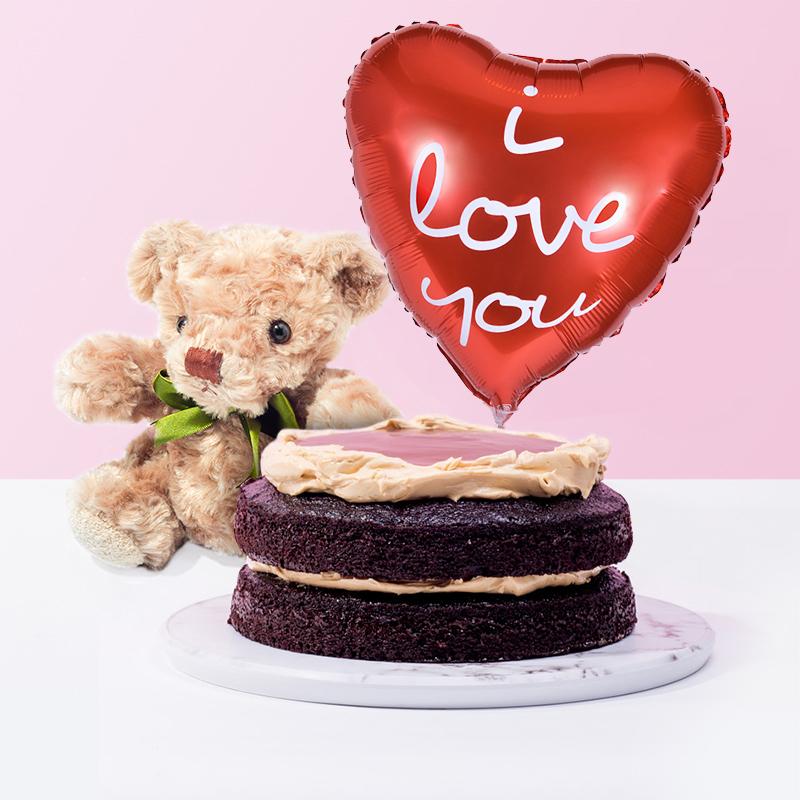 Image Credit: cakerush.my
Tedboy knows a thing or two about making fresh baked goods regardless of bread, buns or pastries using only quality ingredients. The same can be said with their scrumptious range of cakes. Given the fact that Valentine Day's is often synonymous with chocolate, you can't go wrong with one of their bestsellers Awfully Chocolate Cake. Available in 6 inches or 8 inches, the cake lives up to its name with sinfully rich Valrhona chocolate dominating the moist and creamy cake.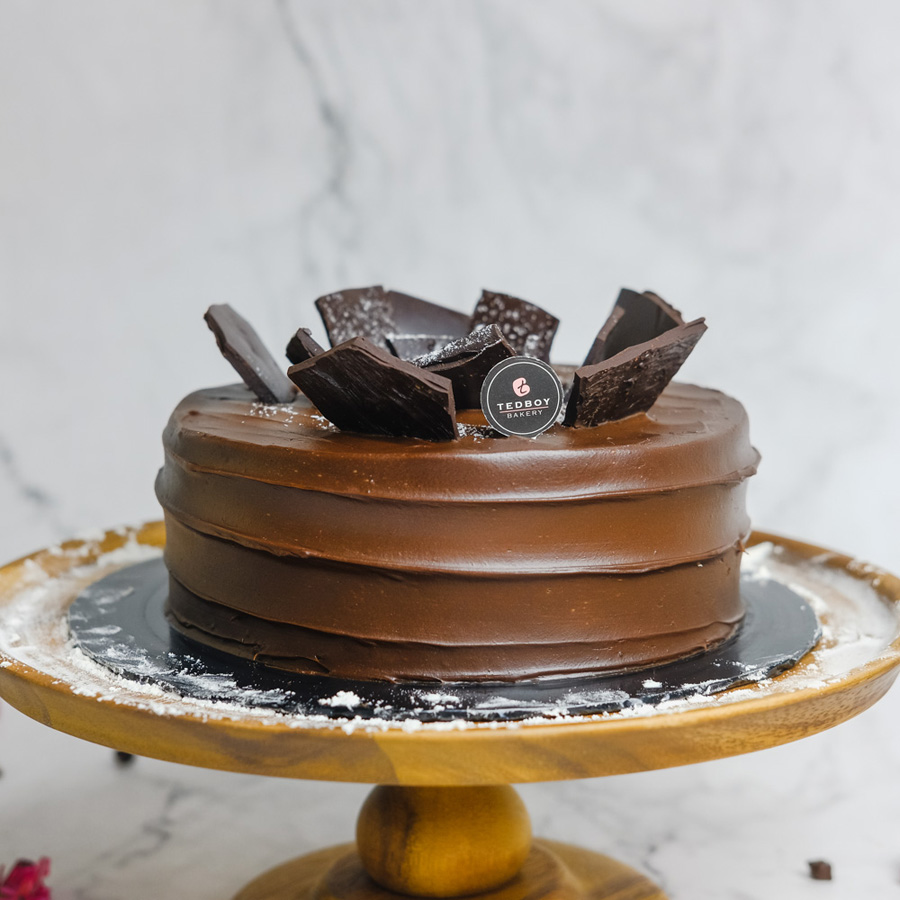 Image Credit: lazada.com.my
Junandus promises only the finest quality and handmade goodness when it comes to cakes, chocolates and cookies. For their Valentine's Day collection, look out for specially-packaged goodies like Elegant Dark Valentine's Cake, offering a 4-inch cake with an optional flavour of your choice (Caramelised Cookies Butter Cake, Red Velvet Cake or Salted Caramel Chocolate Cake). You can also choose to add on the likes of firework candles and birthday cake topper for a fraction of the price. Alternatively, they have other beautiful options such as Valentine's Cake & Flower Gift Box and Pink Kisses Cupcake Gift Set.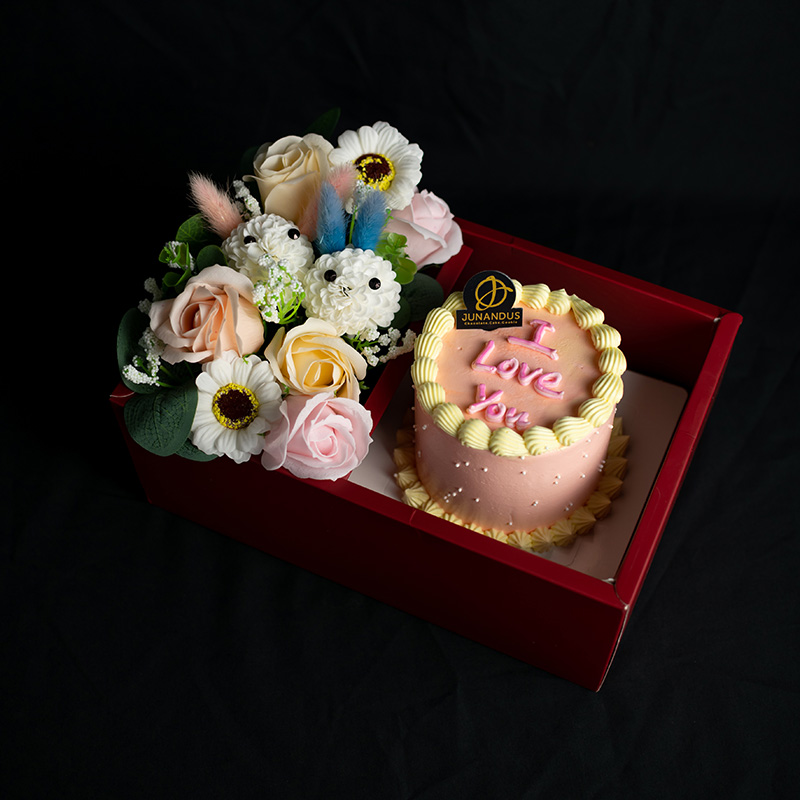 Image Credit: junandus.com.my
At Rinz Bakes, all of their baked goods are freshly made upon order and they only insist on using the best quality ingredients possible. Best of all, they are homemade with no preservatives added whatsoever. Some of their recommended signature cakes available include the refreshing Red Lady, which combines a thick slab of watermelon layered with hazelnut dacquoise and rose-infused whipped cream. On the top, we have loads of colourful add-ons like fresh berries and dried rose petals & tea leaves. If your loved one prefers strawberry shortcake, Rinz Bakes has their own version nicknamed Ichigo -- a fluffy vanilla chiffon cake layered with homemade strawberry jam, complete with beautifully-lined sliced strawberries and blueberries. Both Red Lady and Ichigo are also available in smaller, cute box varieties.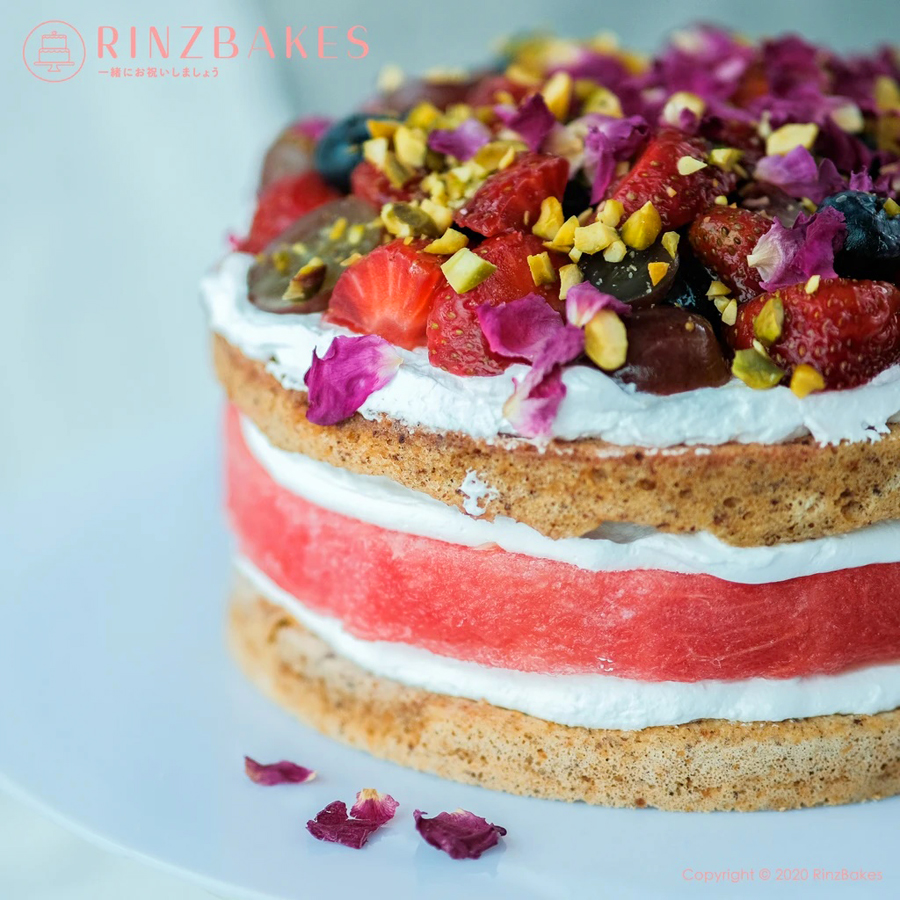 Image Credit: rinzbakes.com
Looking at Bisou Bake Shop's Valentine's Day cake collection, it's worth checking out their exquisitely-designed floral-themed gift set. You have the choice of cupcakes & cupcake posy or whole cake & cupcake posy. For the latter, the set includes a 6-inch Blooming Marvelous cake where you can pick chocolate, vanilla or red velvet flavour. Each set comes with an individually handmade bouquet.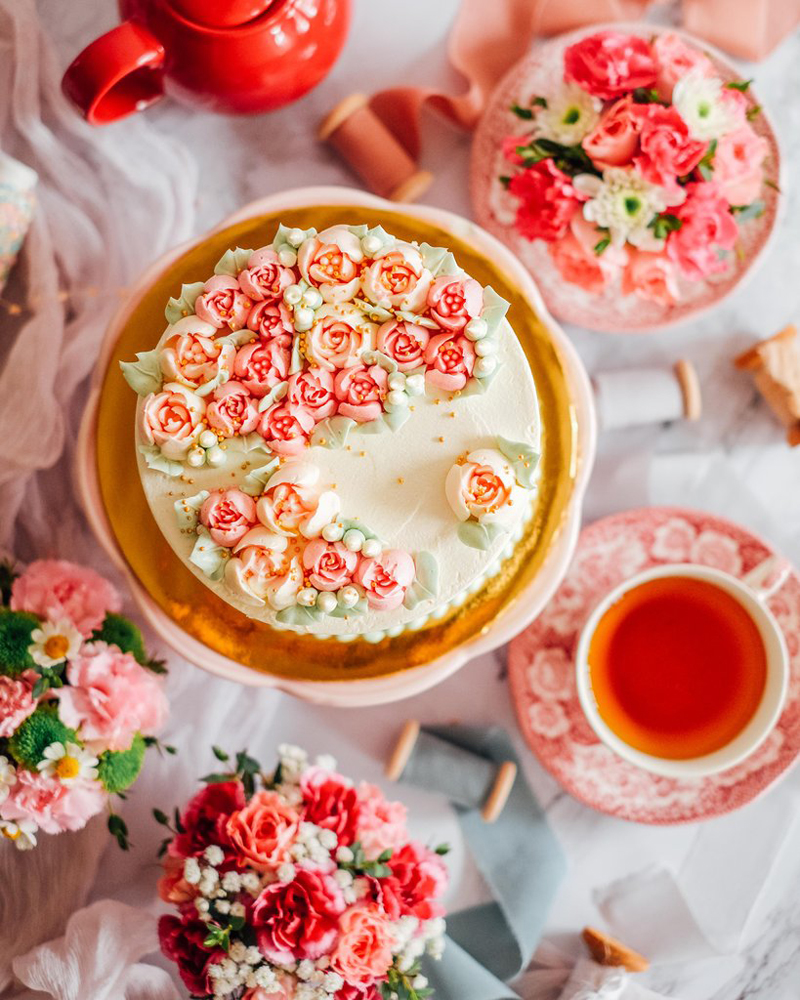 Image Credit: shop.bisou.com.my
The name of their bakery says it all, with their homemade butter cake coming highly recommended. They also offer designer cakes for special occasions like Valentine's Day and no doubt all of them are both Instagrammable and highly presentable. Among their popular options include Darling Angel Wing Cake, Aurora Cake and Secret Garden Cake -- all of which are available in a different flavour of your choice, namely Signature Buttercake or Salted Caramel Vanilla Cake. Each cake comes with complimentary candles and sparklers.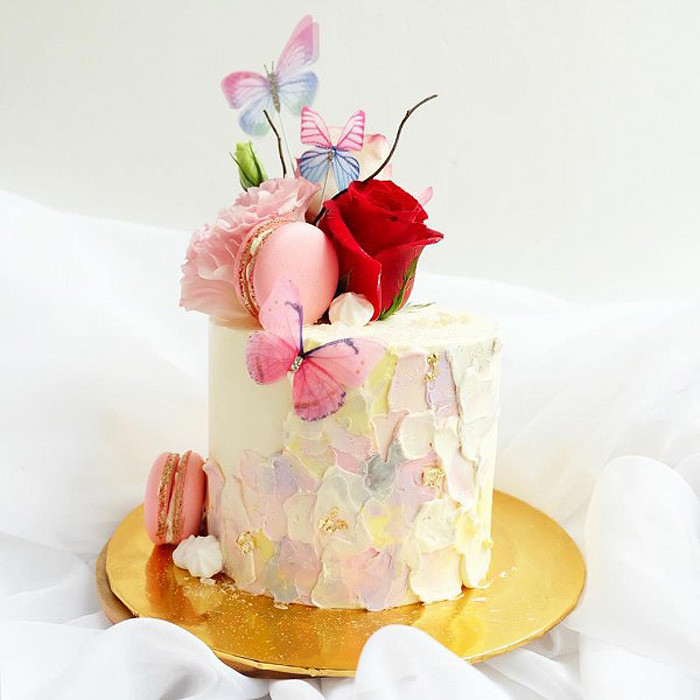 Image Credit: buttercakefactory.com
Here's something cute, mini and colourful in the form of a round cake. Available in a 4-inch size, the cake is covered with buttercream but you can choose one of the three flavours including Chocolate Fudge, Vanilla and Red Velvet. Some of the designs include the floral-themed Pastel Pink Petals and Painted Pastel Flowers. Alternatively, you can also check out their vanilla, fruit/nut-based cakes and cheesecake varieties.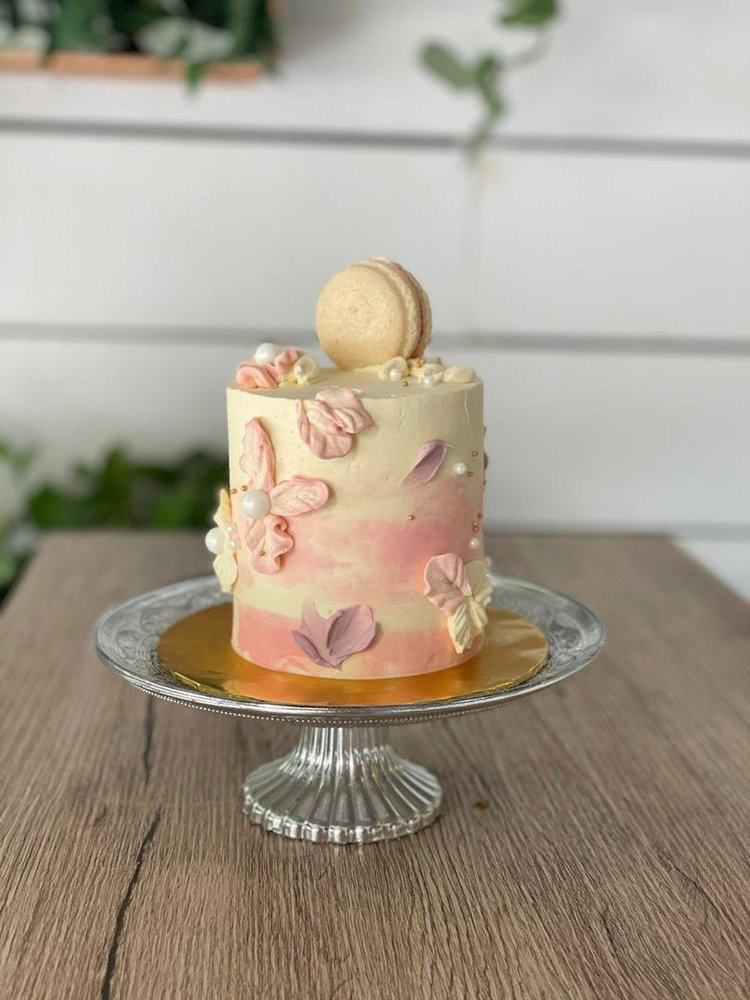 Image Credit: souka.oddle.me/en_MY/
Little Collins' Petite Designer Cakes instantly caught our attention, notably with their colourful and intricately-designed miniature cakes. Take their Pastel Vintage, for instance. Available in Pink Lemonade and Lemonade designs, each cake is beautifully decorated and hand-piped in Swiss meringue buttercream. You can also pick one of the six flavours to pair with your cake base, namely Chocolate Nutella, Red Velvet or Chocolate Salted Caramel. And don't forget to include this little add-on -- a Mini Valentine Gift with the choice of a chocolate cupcake or a cocoa bomb.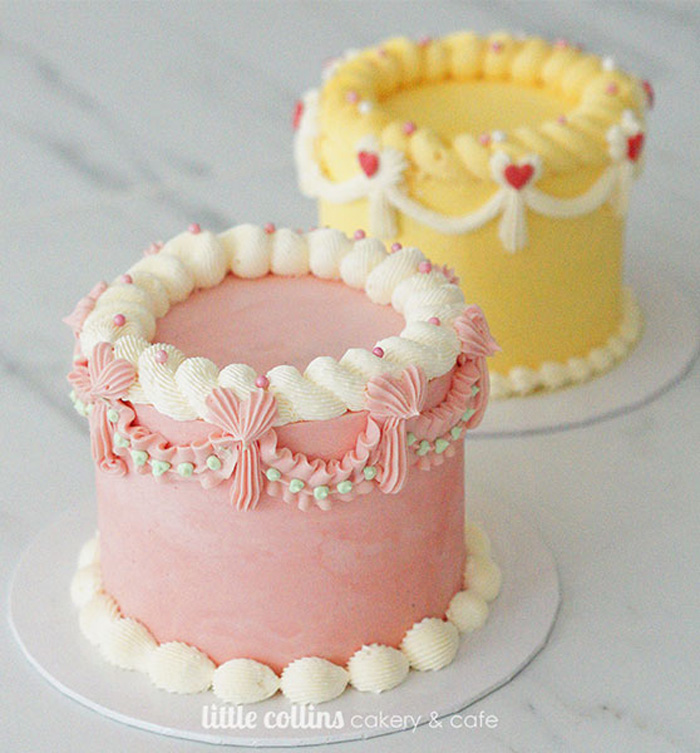 Image Credit: littlecollinskl.com
Is your loved one a fan of cheesecake? Well, here's one of the sought-after cakeries specialising in it, with their cheesecake varieties consisting of rich and premium ingredients. And what's more, they are all fully Halal-certified and contain no added preservatives and artificial flavouring whatsoever. Check out their Valentine's Special, which comes with a whole cheesecake of your choice (the strawberry-based Queen of Hearts or the lychee-based Emperor's Romance). Each cheesecake is bundled with a set of flowers. Alternatively, you can opt for one of their bestsellers such as Over the Moon (classic New York cheesecake), The Russian Whiskers (mango cheesecake) and Apple of My Eye (apple crumble cheesecake).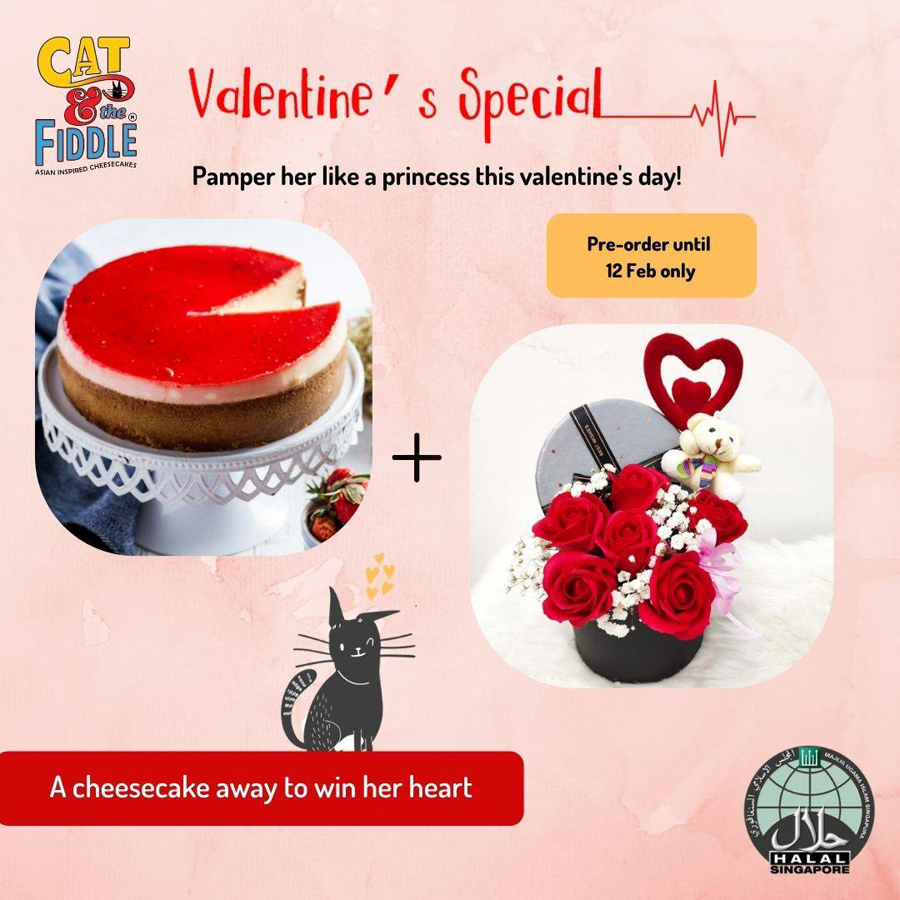 Image Credit: @catandthefiddlemy
For more suggestions related to cakes, check out these highly-recommended cake bakers, cake delivery services and cupcake spots.
---
---