8 Must-Have Bullet Journal Essentials And Where To Get Them In Malaysia
By Michelle Anne Kam - August 27, 2020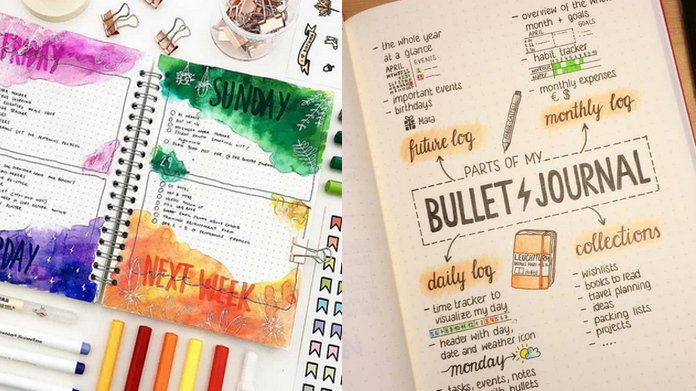 Bullet journaling is basically like any other normal journal, except it is on the more creative side. Instead of just writing down your thoughts and tasks, bullet journaling allows you to be a little more creative while also being an awesome productivity tool. If you're just getting started, here's a basic guide on the tools and accessories you need to begin your journey with bullet journaling.
How To Start A Bullet Journal in Malaysia
---
The Basic Bullet Journal Items
1) Choosing The Right Journal
Dot grid or blank pages, there's just so many to choose from! Ultimately, you should get a notebook that you love and feel comfortable writing on. After all, this is your journal we're talking about here! If you're the type that prefers some structure, then lined pages would be a better option instead of blank ones.
Recommended Journal:
LEUCHTTURM1917 Bullet Journal Medium (A5)

Image Credit: Stickerrific.com
This journal comes with dotted pages. You can get this bullet journal from Writer or Stickerrific.
2) Getting A Reliable Drawing Pen
There are different type of nib sizes for each pen, you would have to find the right one that suits you. You could experiment with a few of the pens and see which one you're the most comfortable with.
Image Credit: Stickerrific.com
You can get them from Writer, Stickerrific, Tabiyo Shop or Sumthings of Mine.
If you need some inspiration, check out the Best Calligraphers in KL & Selangor to get some ideas on Calligraphy for your bullet journal!
3) A Set Of Coloured Pens
It would be boring if your bullet journal is full of black or blue ink. To get started, you can get a full set of coloured pens so you could experiment more with the colours on your journal.
Recommended Coloured Pens:
TOMBOW ABT Dual Brush Pen Set
Image Credit: CzipLite.com
You can get it from CzipLite.
See Also: Best Online Stationery Stores in Malaysia
Useful Accessories And Tools For Bullet Journalling
As a beginner, it is best to experiment around and see what kind of supplies you would need since everyone has their own preferences. These are some of the supplies that could help you throughout your bullet journaling journey.
4) Circle Tool
Though having circle tools may not be a priority, it is definitely useful to have. A bullet journal is not just a planner, it's also a place where you can express your creativity freely with no boundaries, and in this case, creating unique shapes and sizes on your journal.

Image Credit: CzipLite.com
You can get it from CzipLite.
5) Post-it Notes
For times when you can't fit all of your words and drawings into one page, simply place these Post It Notes! Post It Notes come in different sizes, so you could get one of each size. We can get carried away with our overflowing creativity sometimes, so the post-it notes come in handy.
Image Credit: Pipitzakkastore.com
You can get them from Pipitzakka.
Related Post: Best Online Bookstores in Malaysia
6) A Set Of Paperclips
Paperclips are handy for your printables, which is something that most beginners purchase when they first started. It would also be useful for times when you place pictures.
Image Credit: CzipLite.com
You can get them from CzipLite.
7) Adhesive Tapes/Washi Tapes
Warning: you might get addicted to these washi tapes! Washi tapes come in different designs, texture, patterns and colour, making your bullet journal colourful and lively.
Image Credit: Sumthingsofmine.com
You can get them from Tabiyo Shop or Sumthings of Mine.
8) Watercolours and Paint Brushes
If you're on the more creative side, you'll want to include some watercolour on your bullet journal! However, take note that this would be better for those that have experience with bullet journaling and have already mastered the basics.
Image Credit: Stickerrific.com
You can get from Stickerrific.
Once you've gotten the basics, you'll realize that you don't actually need a lot of different tools and supplies, you just need the ones that you feel comfortable with and works for you. You don't need to splurge on all the expensive items, the basic ones are enough for you to use bullet journaling as an expressive platform and a form of self-care.
---
---