8 Artisanal Pizza Places To Check Out In Klang Valley (2021 Edition)
By Casey Chong - June 09, 2021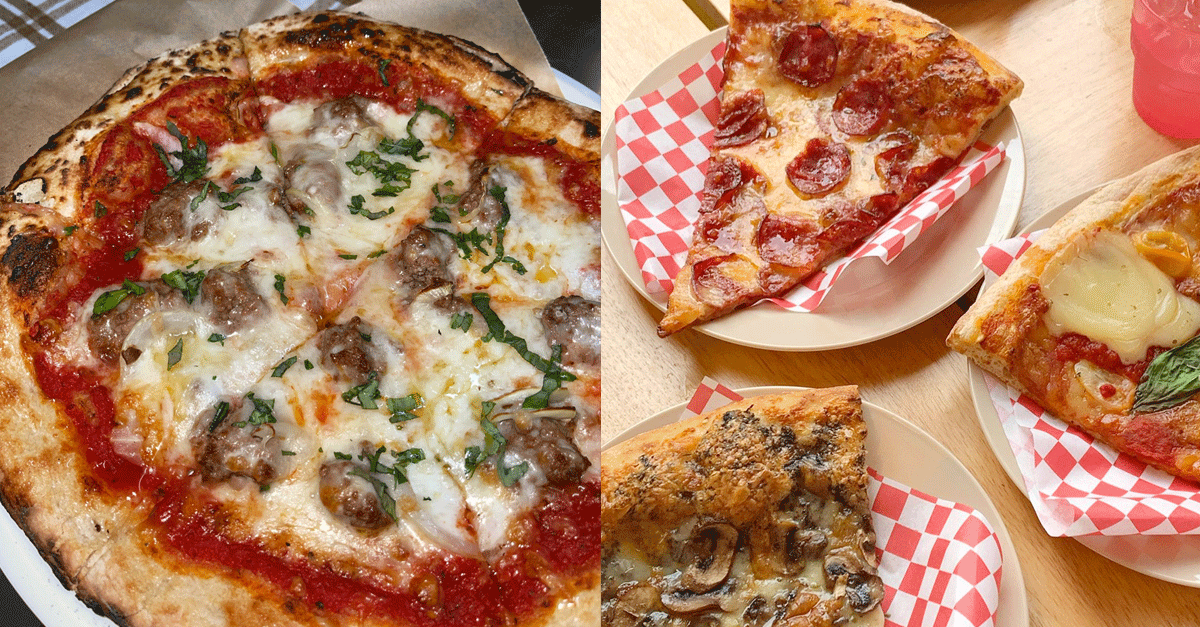 There's something about pizza that makes them a go-to comfort food. Freshly-baked dough, crispy crust, assorted toppings and cheese all over... what's not to like about them? That being said, here's our 2021 edition of 8 Artisanal Pizza Places To Check Out in Klang Valley.
Artisanal Pizza Places in Klang Valley
---
Nothing fancy, just great pizza made with love and passion -- all wood-fired to smoky goodness. Those who prefer the classic marinara sauce can look forward to some of the familiar favourites, namely Margherita (marinara sauce, mozzarella, sweet basil & olive oil) and Minced Beef (marinara sauce, minced beef, onions, garlic, sweet basil & olive oil). Not a fan of tomato-based pizza or simply allergic to it? Not to worry, though, since you can opt for their Bianca pizza topped with mozzarella and parmesan cheese. To complete your meal, don't forget to top up with a side order of G__bread (Garlic bread) or H__erbed fries (Herbed fries). For the latter, they do not use typical frozen fries but rather freshly-cut Russet potatoes to fry them and later tossed with savoury ingredients such as oregano and basil. You can also choose to place your order right here.
Address: 23A, Jalan SS 14/2, SS 14, 47500 Subang Jaya, Selangor.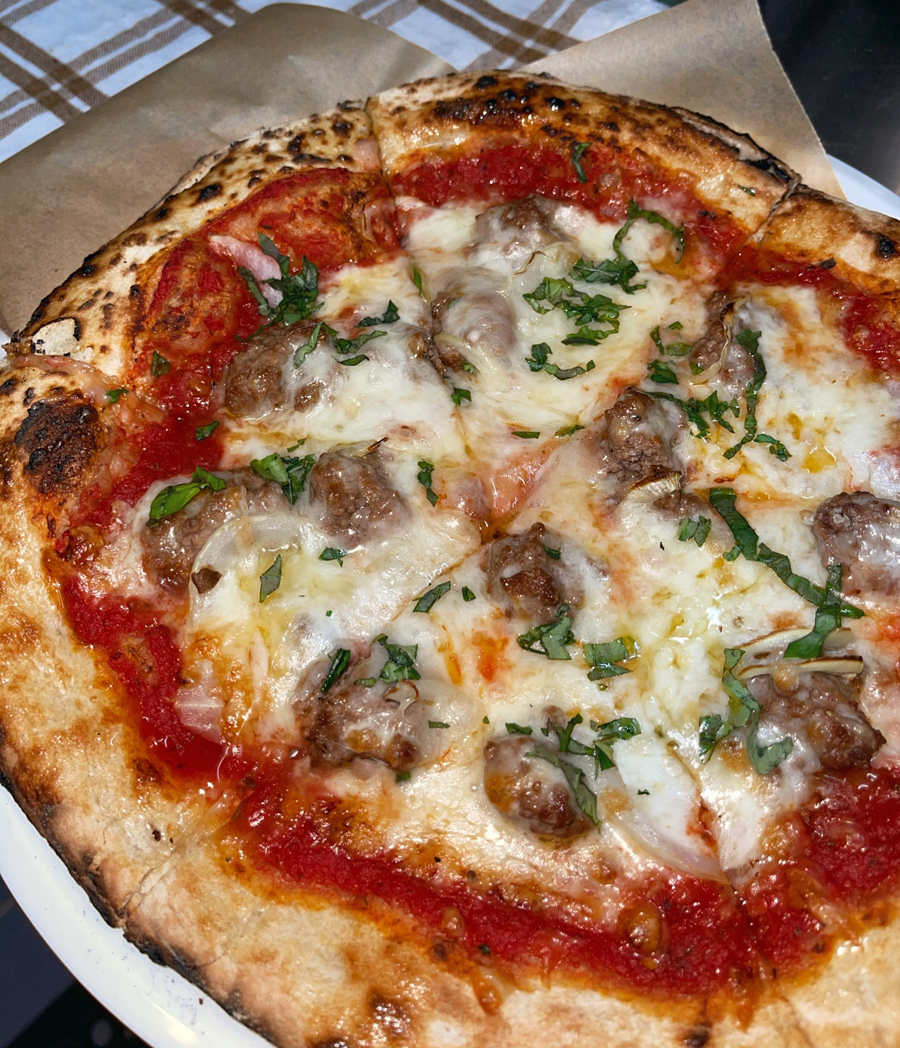 Image Credit: @stretchyourstomach
Fancy some New York-style pizzas? Then, you might want to consider grabbing a bite at Phil's Pizza in Jalan Telawi 2, Bangsar. You have the choice of ordering them per slice or per pie, with the latter referring to 12" and 18" pizzas. True to its New York style, expect a thin crust that is both larger and wider than your average pizza. It's foldable (actually the right way to enjoy such a pizza) and packed with various toppings. Speaking of toppings, they have classics like Margherita and Beef Pepperoni. If you prefer something spicy, do try their Hot Wings or go for the sweet-and-savoury Pineapple Sugus topped with chopped pineapple and smoked duck. Best paired with one of their refreshingly homemade sodas -- available in three different flavours including Sour Lime, Passionfruit and Rootbeer. Visit their shop or place your order right here.
Address: 8A, Jalan Telawi 2, Bangsar, 59100 Kuala Lumpur.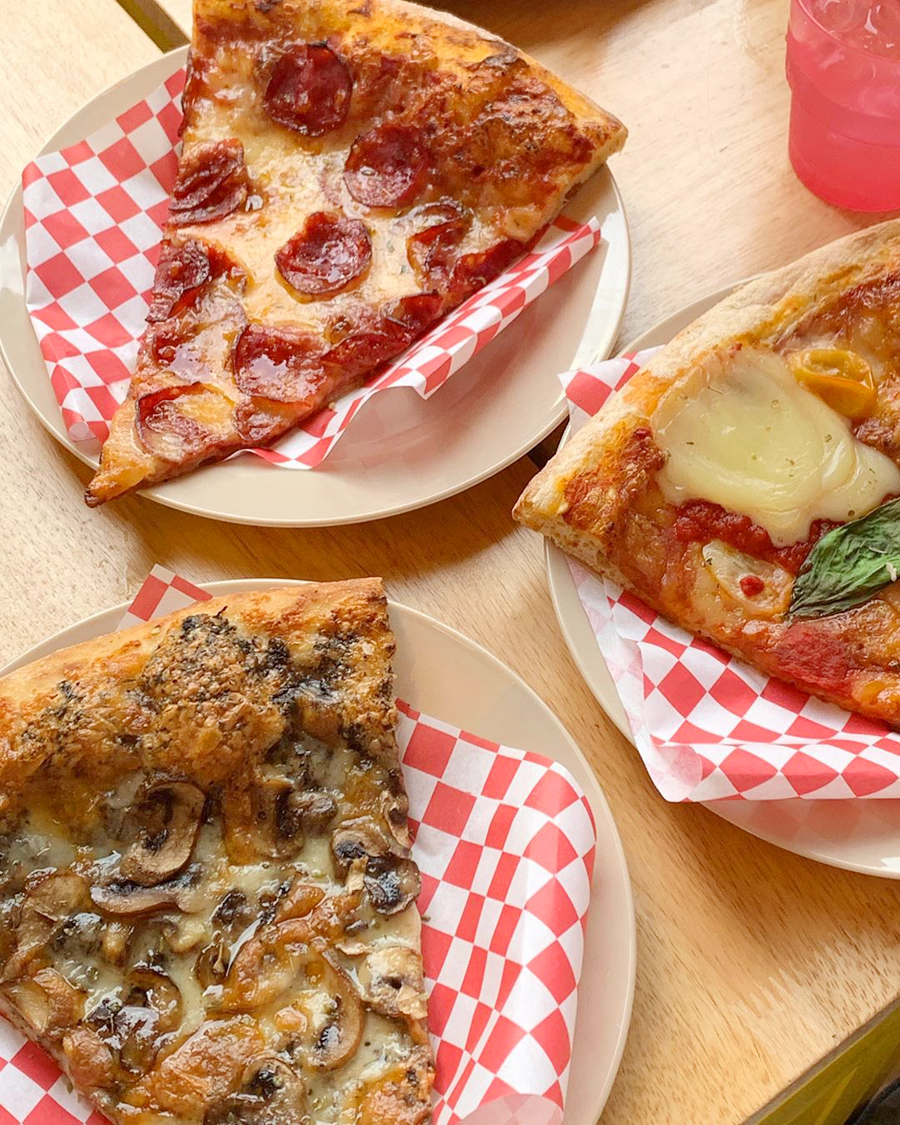 Image Credit: @klnow
Pepo Pizza specialises in wood-oven pizzas and their menu is divided into three categories: Classico Pizza, Artisano Pizza and Dessert Pizza. Not sure which to order? Start with their signature Pepo Pizza -- a tomato-based pizza consisting of various toppings such as black olives, charred zucchini, homemade meatballs and mozzarella. Some of the other popular choices worth trying include Tropicana Pizza (grilled chicken & pineapple), Diavola Pizza (beef pepperoni) and the cream-based Mushroom & Truffle Pizza. If you prefer your pizza sweet and chocolate-y, they have a Chocolate Cloud Pizza layered with all things chocolate from its base to toppings and a handful of marshmallows. To enjoy Pepo Pizza from the comfort of your home, you can choose to order right here.
Address: B. LAND Shoplot 5, Lot 2, Jalan 51A/225, 46100 Petaling Jaya, Selangor.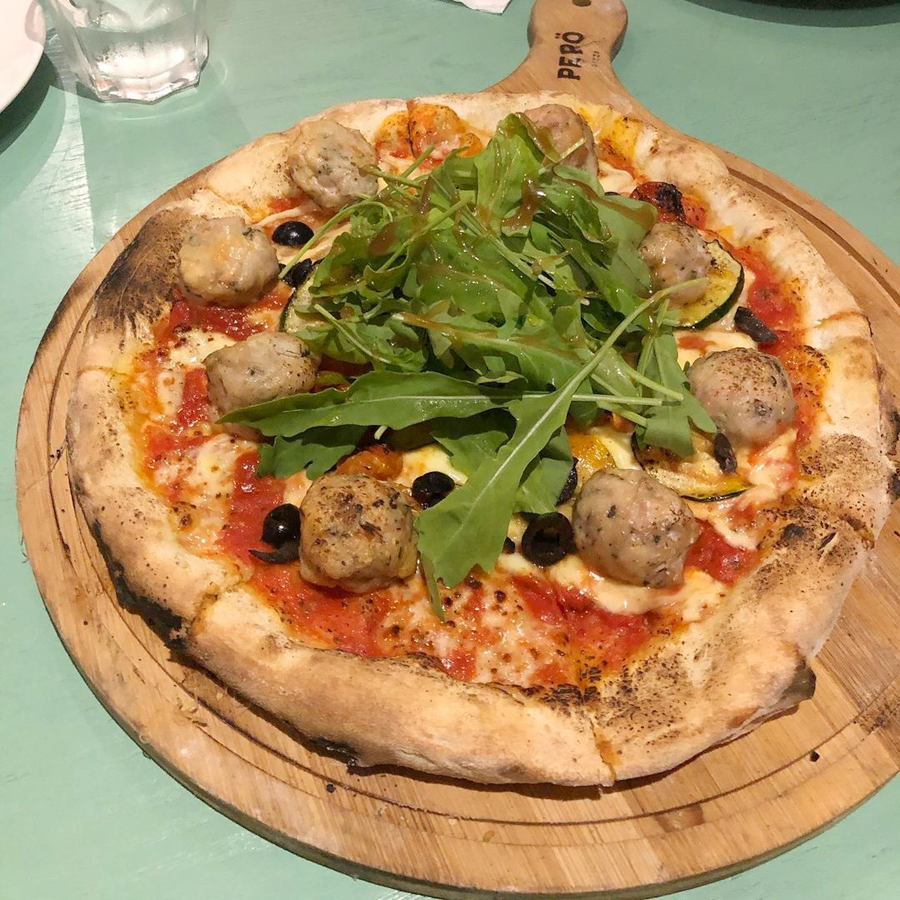 Image Credit: @mandatory_food
At Heritage Pizza, they use a stone oven (in this case, Verona) to fire up the pizza at a high temperature to give it a nice charred edge as well as the right chewiness. They do not take shortcuts when come to making their pizzas, beginning with the dough that has been fermented for 48 hours. Expect quality toppings too regardless of the tomato, cheese or others like olives and cured ham. Their bestsellers? Try the tomato-based Diavola layered with fior di latte, salame piccante (spicy Italian cured meat) and charred chillies. Or go for the oozy goodness of cheese-based Cinque Formaggi packed with the likes of pecorino romano, ricotta and gorgonzola. Hungry already? Well, place your order right here.
Address: 26-G, Jalan Doraisamy, 50300 Kuala Lumpur.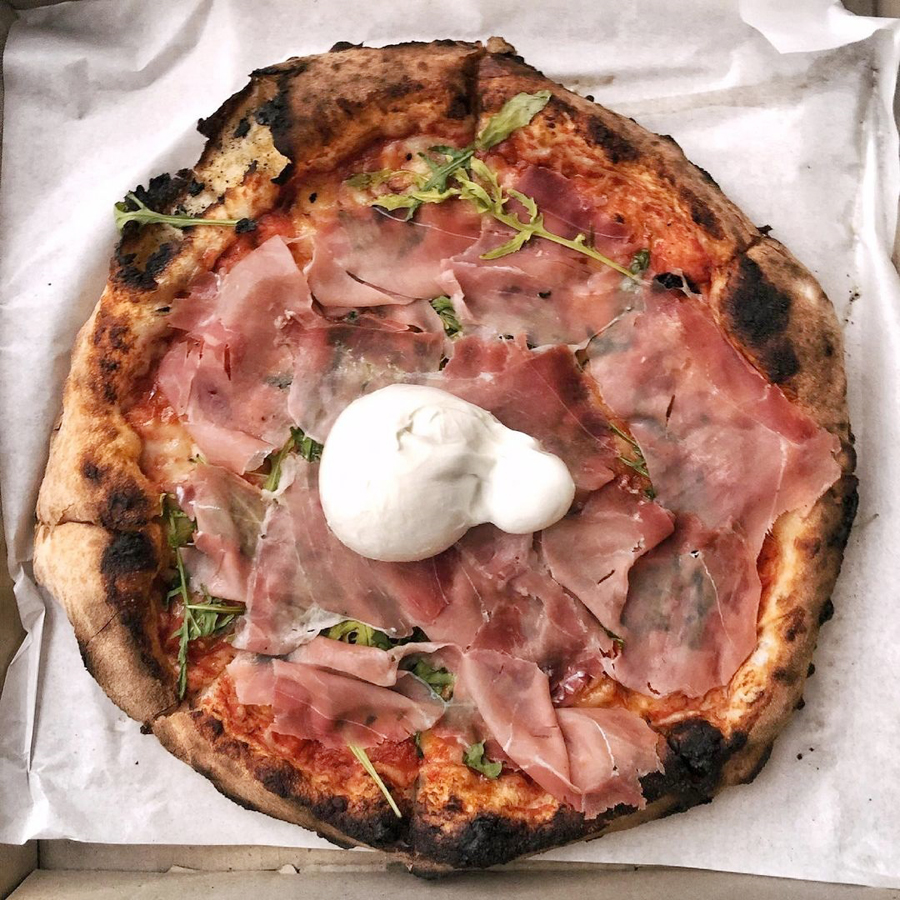 Image Credit: @lijhuin
Located at Plaza Batai, Common Feed serves various types of wood-fired pizzas... using skinny crusts, which in turn, allows you to enjoy more of its rich toppings. Classic choices include the likes of pepperoni and salami while those who love seafood can try their crab-and-clams-combo. Alternatively, they have others like the Russian sausage-like kielbasa & spicy bacon and the vegan-friendly truffle paste with wild mushroom soil.
Address: Lot 8-1A, Plaza Batai, Jalan Batai, 50490 Kuala Lumpur.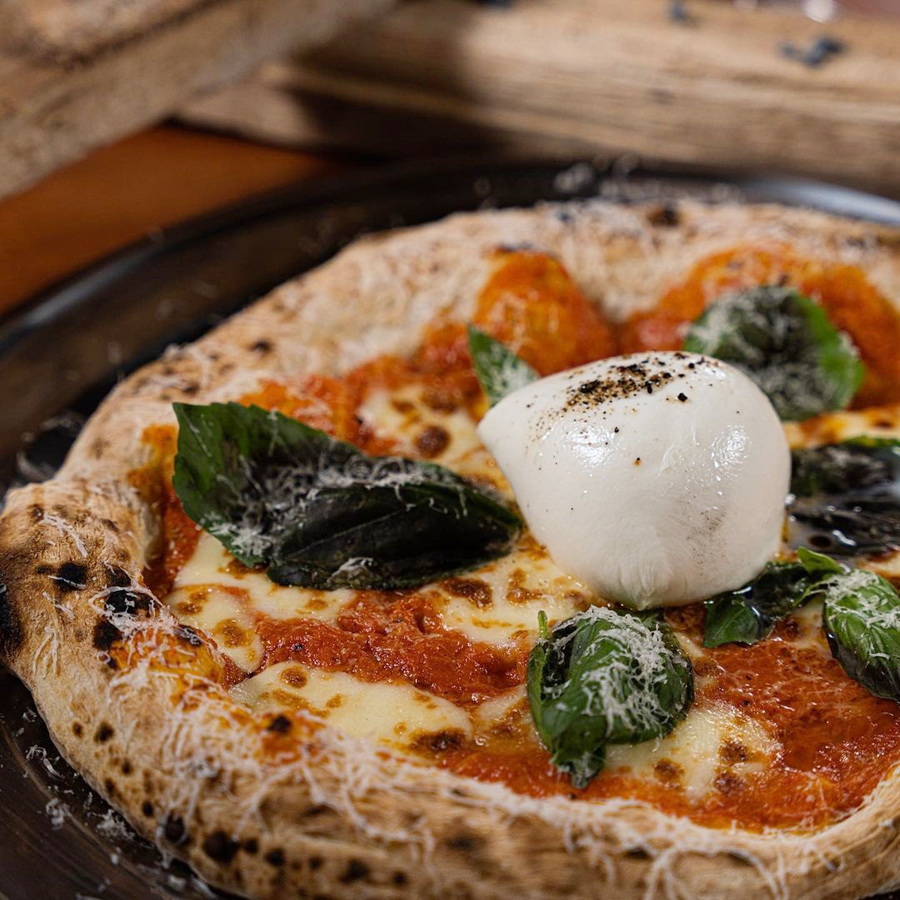 Image Credit: @common_feed
Meat & Eat not only serves pizza but also other comfort foods including burgers and pasta. But let's talk about the former, with their signature Chicago Deep Dish Pizza coming highly recommended. In case you are wondering why is it called "deep dish pizza", that's because the crust has a higher edge all around compared to the regular varieties. Topping-wise, it comes loaded with ground beef, mushrooms, onions and a layer of tomato sauce. Other popular choices include the classic Margherita, Aloha (white-based pizza topped with pineapple, chicken, mushroom & mozzarella) and Carne (beef-based pizza served with jalapenos).
Address: No. 40, Jalan PJU 1/45, Aman Suria, 47301 Petaling Jaya, Selangor.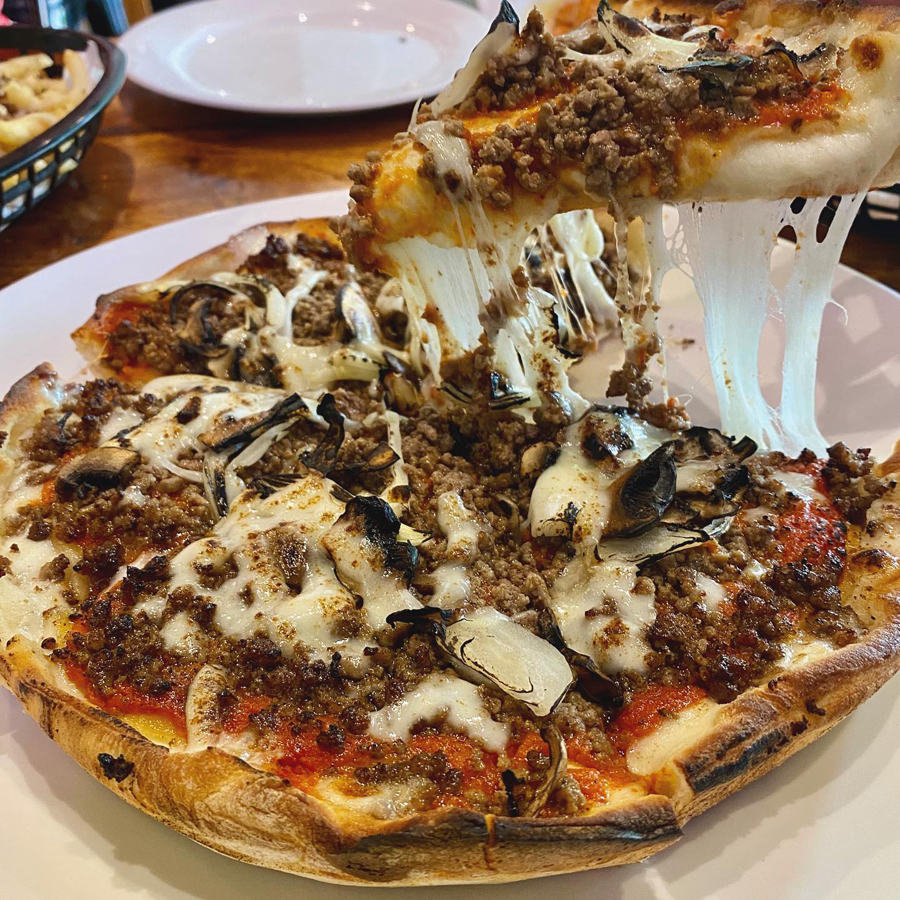 Image Credit: @meatneatofficial
Otherwise known as Luce, this Italian restaurant specialises in a wide variety of pizzas. Get this: it's over 50 of them, which is divided into Pizze Classiche (Classic Pizza), Pizze Bianche (White Pizza) and Pizze Speciali (Special Pizza) categories. Among the options available include Londra (tomato sauce, mozzarella cheese & parma ham), Carbonara (mozzarella cheese, scrambled egg, bacon, Grana Padano & cracked black peppercorn) and the seafood galore of Pescatora. For the latter, the tomato-based pizza comes with black mussels, white clams, tiger prawns, squid, scallops and baby octopus. To enjoy them at home, simply give them a call at 03-2078 8008 to place your order.
Address: No. 10, Old Malaya, Lorong Raja Chulan, 50250 Kuala Lumpur.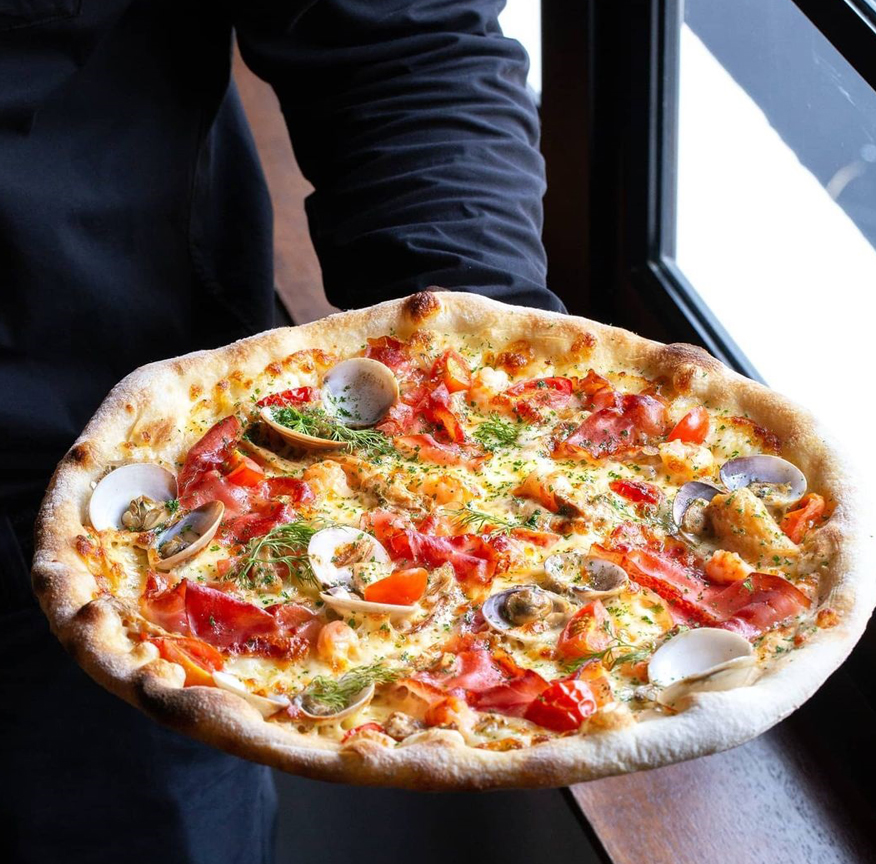 Image Credit: @luceosteria
Serving handcrafted Neapolitan-style 11-inch pizzas but with a Japanese twist explains why their restaurant is named Pizza Tokyo. They use a wood-fired oven to cook their pizza, giving it a distinctly smoky taste with a charred edge. Some of the delectable choices include Sarami (Italian beef salami, onions, bell peppers, mozzarella & tomato sauce) and the spicy-licious Curry Chizu (Japanese chicken curry, mozzarella, carrots, potato, chillies & bonito flakes). And if your budget's not an issue, do try their luxurious Wagyu Tataki consisting of slow-roasted Wagyu beef and topped with rocket, shaved parmesan, garlic confit, tomato sauce, fior di latte and premium miso sauce.
Address: 4-1G, Jalan Anggerik Vanilla BE 31/BE, Kota Kemuning, Seksyen 31, 40460 Shah Alam, Selangor.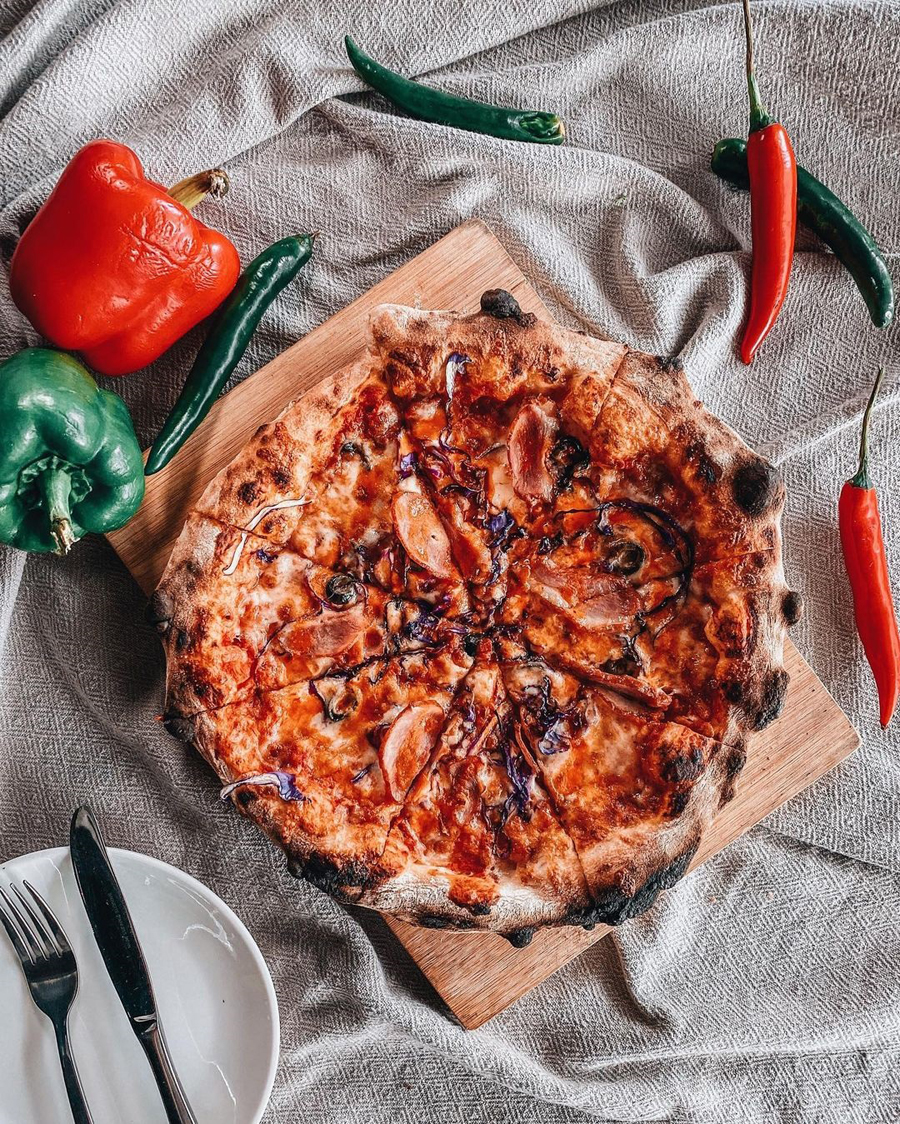 Image Credit: @gopizzatokyo
See also: Best Places for Pizza in KL & Selangor
---
---