7 Beautiful Art Hotels In The World
By Casey Chong - July 09, 2020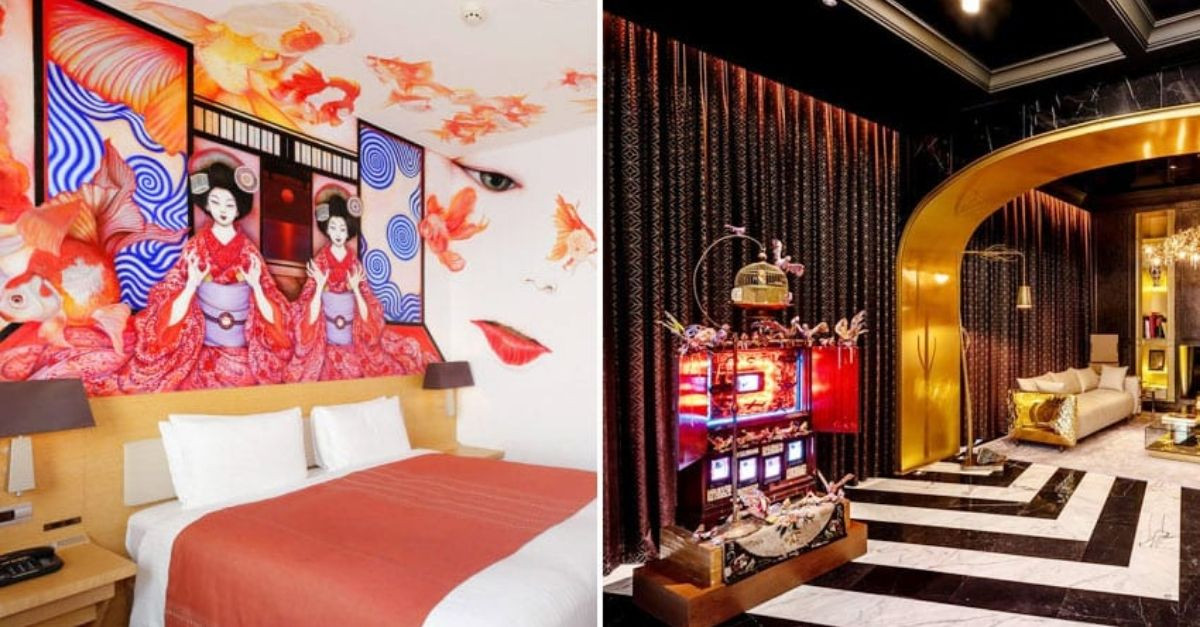 When it comes to appreciating the arts, the first things that often spring to mind are commonly art galleries, museums and certain public parks. But you can also experience the sights of different artworks in various dedicated hotels from all over the world. Here are 7 Beautiful Art Hotels In The World listed in alphabetical order.
---
1) 21c Museum Hotel @ Various Locations In The US
21c Museum Hotel offers the best of both worlds that combine a boutique hotel and a contemporary art museum. The latter specialises in exhibiting 21st-century modern artworks regardless of paintings or installations. You can check out their list of exhibitions right here and best of all, it is open 24/7 and free of charge. One of the branches located at Louisville features an outdoor golden replica of Michelangelo's David just outside the hotel building.
Image Credit: booking.com
2) Art Paradiso @ Incheon, South Korea
More than just a luxury boutique hotel, Art Paradiso showcases an array of contemporary artworks that make you feel likeyou're walking into an art gallery. For instance, the first-floor lobby consists of Paik Nam-June's art installation inspired by Alfred Hitchcock's 1963 horror film "The Birds".
Image Credit: booking.com
3) Le Negresco @ Nice, France
With an illustrious history stretching over a century, Le Negresco houses some of the finest museum-quality art collections from different eras. You will find the likes of classic drawings and prints created by legendary artists like Salvador Dali and Picasso. They have 99 rooms and 25 suites in total, each of which has its own unique decor and art styles ranging from baroque to modern "street art".
Image Credit: ledauphine.com
4) Park Hotel Tokyo @ Shiodome Media Tower, Tokyo
Japanese arts dominate Park Hotel Tokyo, particularly if you manage to book a room on the 31st floor. Otherwise known as Artist Floor, each of the 31 rooms is painted by 31 different artists directly against the walls. Expect fascinating murals that cover various Japanese themes and cultures, namely Aki Narita's "Geisha Goldfish" (room no. 9) and Shiki Taira's "Mount Fuji" (room no. 30). The latter consists of Japan's most iconic mountainous peak, a red torii gate and the Seven Lucky Gods on a treasure ship. Those who stay in the single rooms can look forward to amazing murals such as Hidetaka Furukawa's contemporary "Edo-Tokyo" (room no. 20) and Daisuke Kagawa's prehistoric "Jomon" period (room no. 28).
Image Credit: parkhoteltokyo.com
5) The Dolder Grand @ Zurich, Switzerland
The Dolder Grand houses over 100 artworks from around the world, where guests can witness the likes of paintings to sculptures and other art installations. Expect famous artist names like Salvador Dali, Keith Haring as well as Fernando Botero ("Woman with Fruit") and Andy Warhol, whose vibrant "Big Retrospective Painting" takes up the wall space at 11 metres wide. And in case you want to learn more about these respective artists' works, The Dolder Grand provides its guests with an iPad that has all the necessary information.
Image Credit: thedolmergrand.com
6) The Henry Jones Art Hotel @ Hobart, Australia
Once an IXL Jam Factory, the historic waterfront warehouses have transformed into The Henry Jones Art Hotel. The hotel also happens to be Australia's first-of-its-kind, with original contemporary Tasmanian artworks dominated the space. Guests can book an Art & History Tour hosted by respective art and history liaisons Emine Lewis & Greg Ball and get to know up close and personal about the art collection as well as the illustrious history of the Henry Jones sites.
Image Credit: theaustralian.com.au
7) The Peninsula @ Tsim Sha Tsui, Hong Kong
The bustling Hong Kong city boasts plenty of hotels. And yet, perhaps none of them can come close as illustrious and famous as The Peninsula. Other than their world-class services and facilities, guests can look forward to the hotel's art programme that celebrate the works of both local and international artists. In 2019 alone from March till June, The Peninsula has displayed selected art pieces and installations by the likes of Janet Echelman, Ivan Navarro and Lu Zhi-Gang through its "Art in Resonance".
Image Credit: lonelyplanet.com
---
---